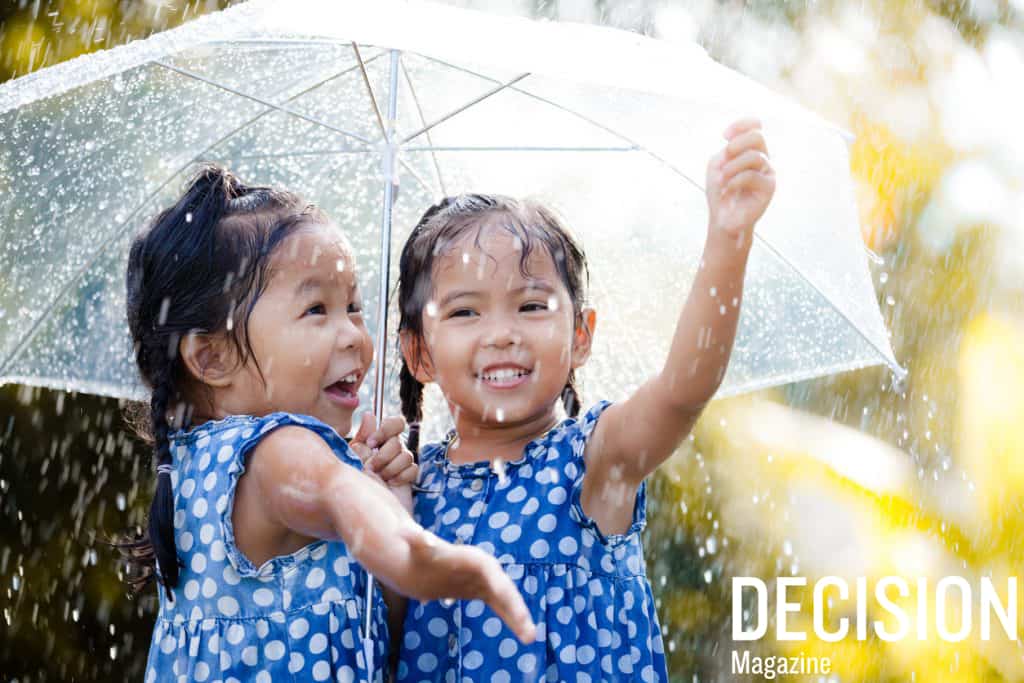 Subscribe to Decision
Get your own subscription, or renewal, or bless someone by giving Decision Magazine as a gift.
SUBSCRIBE NOW
In the area where I live, April is traditionally thought of as the month for showers. Gardeners and farmers alike look forward to the warm spring rains that help not only prepare the earth, but soften the seeds and moisturize the roots so that plants can grow, bloom and bear fruit. Rain is essential for life and growth and health and fruit. A shortage of spring rain has disastrous consequences not only for crops, but on the fields necessary for livestock, and on the replenishment of lakes and streams.
The Bible uses the analogy of spring rain to explain the ministry of the Holy Spirit (Hosea 6:3). Jesus described the Holy Spirit as the Living Water (John 7:37-39), without whom you and I would enter into spiritual drought and famine. We would simply dry up on the inside. As Jesus prepared to leave His disciples, He told them to look forward to the Rain that would come from Heaven.
READ JOHN 16:5-16
The Person of His Spirit
What are some of the names Jesus gives for the Holy Spirit, and how does each one describe a different aspect of His character? See John 16:7, 13 and John 14:26.
What pronoun is used to refer to His Spirit, and how many times is it used in John 16:7-14? What do you think this means?
Who is the Spirit? See Matthew 3:16, Romans 8:14, 1 Corinthians 6:11 and 2 Corinthians 3:3.
The Power of His Spirit
Describe His Spirit's power in Genesis 1. What difference did He make at the very beginning of creation?
How does this apply to you and me? Read 2 Corinthians 3:17-18 and 5:17.
What are some of the many things that His Spirit has power to do for us? Read John 16:8-11; 1 Peter 1:2; Hebrews 2:4, Ephesians 1:17; Romans 5:5, 8:9-11, 15:13; and 1 Corinthians 12:4-11.
What instructions did Jesus give His disciples in Acts 1:8?
How was this promise fulfilled in Acts 4:31?
Describe an experience of His Spirit empowering you to give witness of Jesus.
The Presence of His Spirit
When did His Spirit come to the disciples? See Acts 2:1-17.
How do the small prepositions, in and with, reveal the dramatic difference the disciples would experience when His Father sent down His Spirit at Pentecost? Read John 14:16-17.
How does this explain the benefit referred to in John 14:7?
Is it necessary today to receive His Spirit inside of you? Explain. Read John 1:12, Romans 8:9, John 3:5-8, Ephesians 1:13 and 1 Corinthians 6:19.
Describe the specific point in time that you received His Spirit into you.
The Precepts of His Spirit
What are the precepts of His Spirit? Read 2 Timothy 3:16.
How does Jesus describe the work of His Spirit as it relates to the Bible? See John 14:26, 16:12-15; 1 Corinthians 2:10-16; and 2 Peter 1:21.
Do you think His precepts change with the generations or cultures? See Psalm 119:89; Matthew 5:18, 24:35; and Revelation 21:5.
How much better would you know His precepts if you read your Bible every day?
The Purity of His Spirit 
Which of the names of the Holy Spirit emphasizes His Spirit?
Define holiness.
Is holiness optional for followers of Jesus? Read 1 Peter 1:15-16 and Hebrews 12:14.
What are some of the ways we are affected by being indwelt with the Holy Spirit? Read Ephesians 5:15-21, Romans 12:1, Galatians 5:16-26 and 2 Corinthians 7:1.
How clearly does your spouse or best friend see the Spirit of Jesus reflected in your life? What do you need to put out, or put in, in order to polish the reflection?
The Prayers of His Spirit
What is one aspect of His Spirit's personal ministry to you? See Romans 8:26-27.
What encouragement does this give to you?
The Priority of His Spirit
In one word, who is the Spirit's priority? Read John 16:14, Romans 1:2-4, Ephesians 1:17 and Revelation 19:10.
What is your priority? What can you do practically to bring your priority in line with His Spirit's priority?
This spring, every time you see a raindrop, or wish you did, would you ask God to saturate you in the rain that comes from Heaven? Then open up and fully yield your life to the Person, the Power, the Presence, the Precepts, the Purity, the Prayers and the Priority of His Spirit.  ©2013 Anne Graham Lotz
Give To Where Most Needed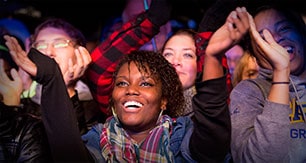 Help us fulfill our mission of proclaiming the Gospel of the Lord Jesus Christ to all we can by every effective means available to us and by equipping others to do the same.