Subscribe to Decision
Get your own subscription, or renewal, or bless someone by giving Decision Magazine as a gift.
SUBSCRIBE NOW
Kevin Sanguin was living in an almost perpetual haze of alcohol and drugs in 1985 when he crashed his car during a high-speed turn. The collision almost killed several elderly people in his hometown of Weyburn, SK.
He felt so worthless afterward—having already been convicted twice of impaired-driving—that he prepared to kill himself.
Today, Kevin is living a radically different life—one with meaning and purpose, and one far from Weyburn. He's a married father of five with a solid career in Rankin Inlet, Nunavut.
Kevin and his wife, Alide, are deeply committed Christians eager to see how God will work through the Billy Graham Evangelistic Association of Canada's Celebration of Hope in Rankin Inlet to transform their isolated Arctic town. It's one of two Celebrations BGEA of Canada is organizing this year. The other is in Newfoundland's Avalon Peninsula.
"I'm so excited about the Celebration coming here because a number of our brothers and sisters in Nunavut have been praying for a revival," he said.
"We've been praying for a powerful move of the Holy Spirit. We've been praying for changed lives, and we believe the Lord is opening a door through the Celebration of Hope."
Kevin says although every community in Canada needs the type of revival that a Celebration can spark, Rankin Inlet has been his home for about 30 years, and he's aware of its special challenges. He cites "the distance and isolation, and a legacy of pain that people are still dealing with (from First Nations) residential schools and colonization—deep pain."
Other challenges include unemployment and the extremely high cost of living in the Arctic, where everything must arrive by air or by summertime barges on Hudson Bay.
"We just desire for the Lord to come and minister to hearts," he says.
Kevin's heart certainly needed ministering back in Weyburn. He knew the basics of Christianity, thanks to watching at least parts of several televised Billy Graham Crusades. But none of those Crusades persuaded him to change his life.
In 1985, on the wild car ride that ended in an accident, five elderly people stepped onto a boulevard just in time to avoid being hit by his speeding Ford Torino. After the vehicle slammed into another car, Kevin tried to back up and drive away, but the engine stalled and wouldn't restart.
A woman walked toward him. She laid a firm but compassionate hand on his arm and said: "This looks really bad, but you need to stay here and face this because if you leave, it's going to be a lot worse."
Kevin stayed. The police arrested him. He spent a night in jail before they drove him home. His parents were waiting, but he was too embarrassed to look at them and headed for his basement bedroom. A voice inside said: "You're going nowhere (with your life). You don't even deserve to live."
How did Kevin respond?
"My father had a gun rack on the wall," he recalled. "I got up and I was walking over to the gun rack."
But then his parents came down the stairs. His mother put her hand on his arm, exactly where the heaven-sent woman at the accident scene had placed her hand, and said: "Kevin, that car is just metal. We can replace a car but we can never replace you. We have no idea what to do, but we didn't want to sit upstairs and listen to a gun go off."
They talked for a while, then his parents went back upstairs. That's when Kevin remembered all that he'd learned watching televised Billy Graham Crusades so many years before.
"I fell down on my knees and I said: 'Lord, I don't know if you'll still have me, but if you'll have me, I'm yours for the rest of my days. I'll go anywhere, I'll do anything – whatever you want.' And in that moment, I felt the Holy Spirit. I've never felt such a peace and such a renewing . . . the Lord heard my prayer and answered."
"Lord, I don't know if you'll still have me, but if you'll have me, I'm yours for the rest of my days."
Kevin started attending a local church, joined a Bible study, and began requesting books from the Billy Graham Evangelistic Association to help him grow in his faith.
He thought he should abandon his tentative plans to go to college and study hotel management, but felt God telling him that it was still a good idea. He finished college and was offered a hotel job in Rankin Inlet, arriving by airplane during a spring blizzard.
"I landed in a white-out storm," he recalled with laugh. "It felt like I was on Mars. I stepped out onto the tarmac, looked around and thought, 'oh Lord, this is so amazing!' I loved it that day and I love it just as much today. And now the Lord has blessed me with a wife and children and friends. He has blessed me on every side."
Kevin, 57, is eager to see other people in Rankin Inlet embrace Christ in the life-transforming way that he and others have. He's convinced the Celebration of Hope offers the best possible opportunity in his community of about 2,700 people.
His prayer is that people throughout Rankin Inlet and the surrounding area will "take hold of the life-changing message of the Gospel of Jesus Christ. That's always my prayer. And now we have this amazing opportunity to bring it (through the Celebration of Hope) in a way that hasn't been seen before."
Learn more about the Celebration of Hope by visiting RankinInlet.CelebrationOfHope.ca, where you can join the prayer team and financially support what God is doing in Rankin Inlet.
>> Read more from Decision Magazine
Give To Celebration with Will Graham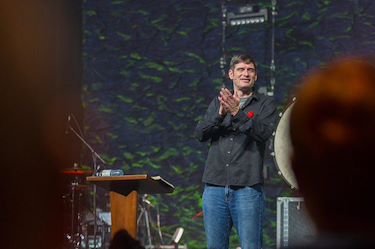 A Celebration with Will Graham is about proclaiming the Gospel of hope in Jesus Christ and equipping others to do the same. Your gift will enable us to partner with churches and believers in Canadian cities so that together we can proclaim the Gospel.