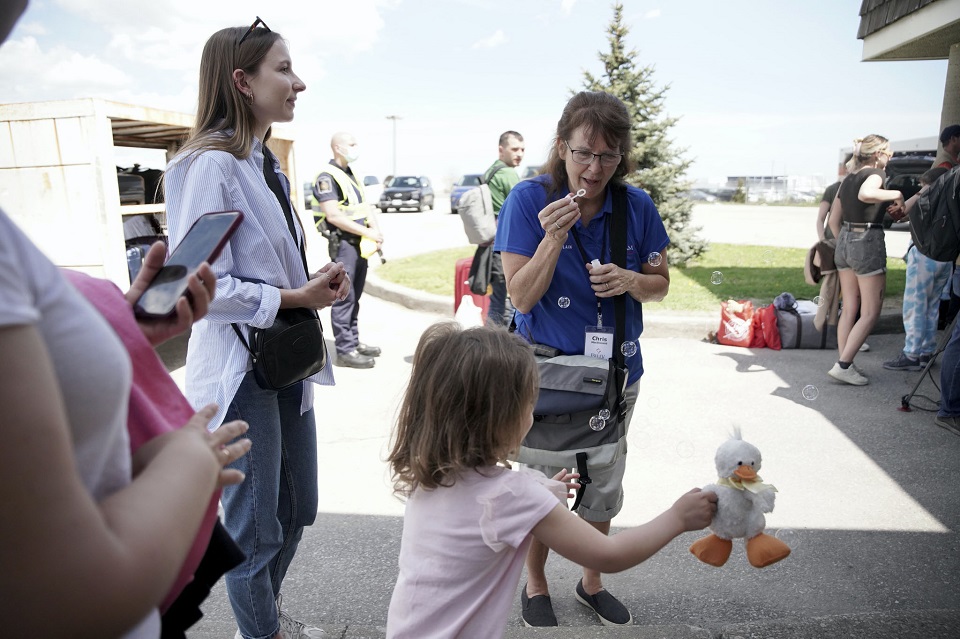 The elderly Ukrainian man wept as he shared his devastating story of fear and loss with a crisis-trained Billy Graham Rapid Response Team chaplain.
Fleeing the conflict in his homeland, the man had just arrived at Toronto's Pearson Airport in Canada along with his wife and their three young grandchildren. His daughter—the children's mother—had been killed in Ukraine.
Thanks to the prayers and support of Canadians like you, BGEA Canada chaplains David and Sandra McCandless were able to be at the airport when the family arrived.
"It was hard to keep it together," David said of the encounter. "It was a heart-breaking story."
To date, David and Sandra have been on hand for eight Samaritan's Purse Canada flights bringing Ukrainian families from Poland to Toronto. There, they meet friends, relatives, sponsors, or take connecting flights to other parts of Canada.
"We have a table set up with gift packages that we offer them as they arrive," David said. Tailored to meet the immediate needs of passengers, the welcome packages include SIM cards for mobile phones, gift cards for food and necessities, plus items for children like coloring books and stuffed animals.
Working with interpreters, the chaplains welcome each family, offer prayer and emotional support, and provide transportation to connecting flights or sponsor pick-ups where needed.
After having endured a harrowing escape from their country, and earth-shattering losses, refugees are so grateful for the support offered by our volunteer teams.
"The man first wanted to pray, and expressed his deep gratitude for God's blessings and mercies in helping them come this far and receiving so much help from BGEA and volunteers like us," said David.
"I prayed for him, man to man. It was a privilege to give him my shoulder to cry and lean on. He is a certified chiropractor, and I prayed for him to be able to resume his career in Canada."
Please continue to pray for Ukrainian refugees, and for chaplains who are ministering to them with the hope and power of the Gospel. And pray also for the visible witness the chaplains and this ministry are having as other Canadians observe this work.
"The airport terminal manager and ground personnel are getting more familiar with us," David said. "They are curious about what we are doing, and how we are helping all of these refugees. That is also a cause for thanking God for the testimony of Jesus."
Give To Rapid Response Team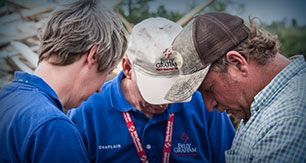 Your gift will provide for the training and deployment of our Rapid Response Team chaplains, who are deployed when natural or man made disasters strike in Canada and abroad. RRT chaplains serve and support hurting people affected by crisis, and share the message of hope found in Jesus.