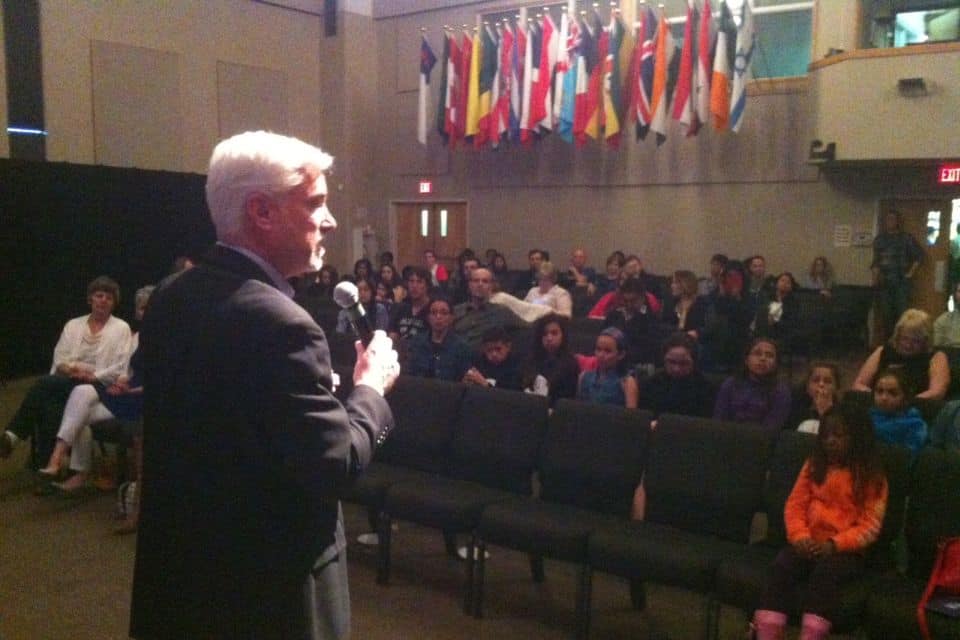 On a night filled with the glory of the northern lights in northern Alberta, local pastors, church leaders, and Christians praised God and found out how He is going to work through the Fort McMurray Celebration of Hope with Will Graham to change lives in this city of 70,000.
"Our city needs renewal and we need renewal," Celebration Chairman Rick Kirschner told the crowd of close to 100 at McMurray Gospel Assembly. "I'm honored to be part of this because I believe God is up to something here."
Fort McMurray is one of three Celebration destinations in Canada in which Will Graham, God willing, will share the Gospel in 2015. He's scheduled to be there on Nov. 14 and 15. Before that, Will (the son of BGEA president Franklin Graham) is scheduled to preach in Siksika First Nation near Calgary on Oct. 15, and in Whitehorse, YT on Oct. 16 and 17.
After praise and worship led by Canadian singer/songwriter Fraser Campbell, BGEA of Canada Ministry Director Dave Ingram spoke about how the Celebration of Hope journey "is a great opportunity to see Fort McMurray in a new way.
"Are you distressed by what you see around you? I pray God will stir our hearts to see the opportunity we have to share our hope, because Jesus is available to all."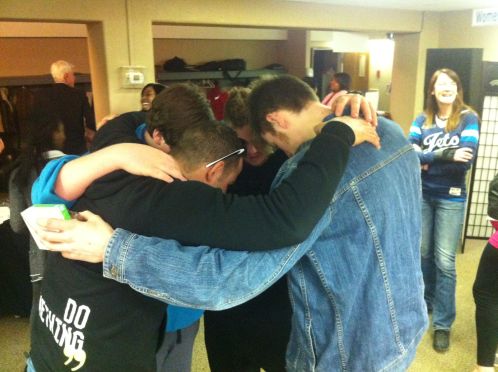 Praying at the Celebration of Hope launch event.
Other BGEA representatives explained the value and importance of all the Celebration of Hope phases, which include Christian Life and Witness Course (for all ages) and FM419 (aimed at young people). These phases help Christians deepen their walk with Christ and equip them to share their faith with friends and loved ones.
Another phase, Community Action Projects, takes Christians into their community to do improvement work, such as graffiti removal and neighborhood cleanup. Along the way, God gives them opportunities to tell curious residents the reason for their work.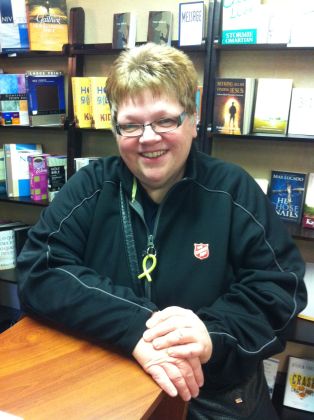 In a videotaped greeting to everyone at the launch event, Will Graham said "I want the churches and businesses to come together to reach people and let them know about your hope in Christ."
That was music to the ears of Cathy Harnum-Flynn, the Community Outreach Coordinator with Salvation Army Fort McMurray (pictured left).
"I go out every night and have conversations with street people," she said. "I want them to know there's hope. And seeing all these people here at the launch event gives me hope. God wants us to be a family and go out and get sheep for His flock."
Give To Where Most Needed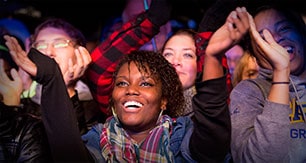 Help us fulfill our mission of proclaiming the Gospel of the Lord Jesus Christ to all we can by every effective means available to us and by equipping others to do the same.