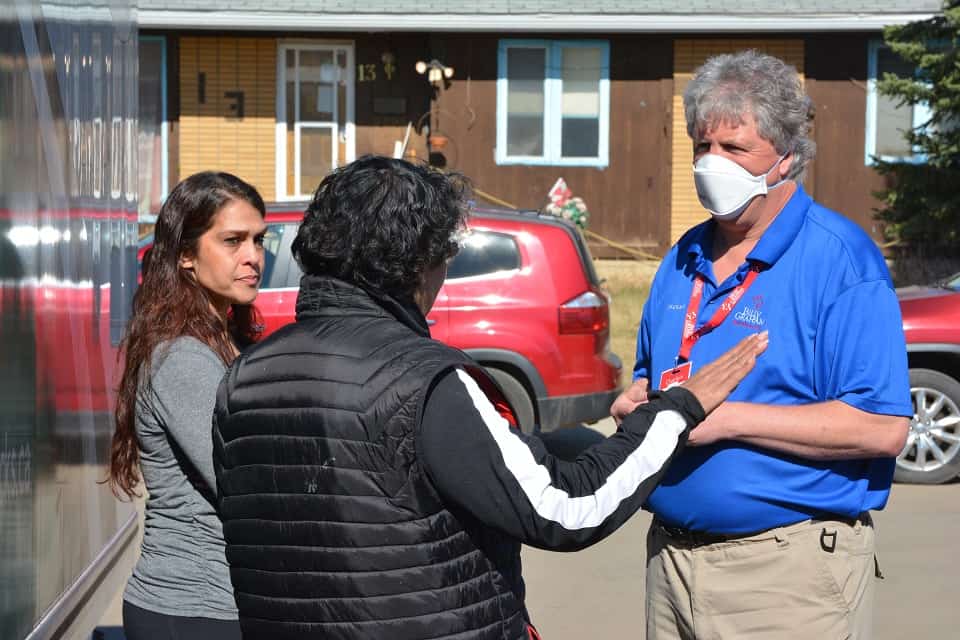 Beth's goal, in traveling from her home in Calgary to Fort McMurray, was simply to check on her rental property in the northern Alberta city after learning spring floods had badly damaged many homes there.
She had no idea the 740-kilometer trip would change her eternal destiny.
Beth* arrived in Fort Mac and discovered flood damage in her rental property. She was sharing the sad news with a nearby homeowner when Steve, a crisis-trained Billy Graham Rapid Response Team (BG-RRT) chaplain approached. Steve and Beth started talking, and he learned that although Beth attended a Calgary church with her husband, she had no faith in Christ.
"So I said 'would you like to" Steve recalled later. "I wasn't asking Beth to join a church or an organization; I was asking if she would like to know Jesus personally."
Beth said she'd never been asked that question before, and agreed to join Steve in reviewing the Billy Graham Evangelistic Association's Steps to Peace with God booklet.
Moved to tears
She was moved to tears by the booklet's simple description of who God is, who we are, and how we can have an eternal relationship with Him starting right now through faith in Christ.
We praise God that when Steve offered Beth the opportunity to pray a prayer of salvation, she said yes!
"I told her she was doing a heart-to-heart with God, that this is an intimate moment between you and Him," he said.
As Beth spoke the prayer, more tears came to her eyes.
"She felt a burden lifted off and replaced with joy," Steve explained. "God showed her He's real and those were Beth's words: 'He's real.'"
When God opens a door of opportunity like he did with Beth, BG-RRT chaplains can gently proclaim the Gospel and invite people to repent and place their trust in Christ, "for there is no other name under heaven given among men by which we must be saved" (Acts 4:12, ESV).
Through donations and prayers, Canadians like you sent Steve and other volunteer chaplains to Fort McMurray to offer Christ's love and comfort to flood victims, to first responders, and local volunteers who'd signed up with Samaritan's Purse to help with the clean-up.
Samaritan's Purse employees encourage Beth
When Steve first approached Beth, Samaritan's Purse employees and volunteers were cleaning up nearby. Prompted by the Holy Spirit, he brought two of the employees to Beth so she could reveal her new faith and they could encourage her by sharing what God has done in their lives. "This gave Beth assurance that God works in other people's lives too," Steve said.
We thank God for every opportunity He provides for people like you to change lives through your gifts and prayers.
Please continue to proclaim the Good News to struggling people through the Billy Graham Evangelistic Association. "For this is the will of my Father, that everyone who looks on the Son and believes in him should have eternal life" (John 6:40, ESV).
*Name changed to protect privacy
Give To Rapid Response Team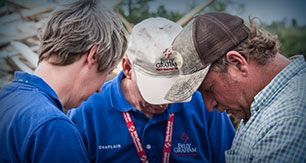 Your gift will provide for the training and deployment of our Rapid Response Team chaplains, who are deployed when natural or man made disasters strike in Canada and abroad. RRT chaplains serve and support hurting people affected by crisis, and share the message of hope found in Jesus.