"Sometimes I'm asked to list the most important steps in preparing for an evangelistic mission," Billy Graham once said, "and my reply is always the same: prayer … prayer … prayer."
Everything BGEA does is wrapped up in prayer. Before Franklin Graham holds a Festival in a particular city, leaders and church members there have already been praying for months. When Rapid Response Team chaplains are deployed to a disaster-ravaged location, they look for people they can pray with. And each week, the Internet Evangelism team gathers to pray for both volunteers and the people being reached with the Gospel online.
But what exactly should we pray for?
We invite you to join us in praying for the following ministry needs in 2015. It's a simple way for you to get involved in worldwide evangelism—right where you are.
Festivals and Celebrations
Thousands of people across the globe recognized their need for a Savior and decided to put their lives in His hands at one of many Franklin Graham Festivals or Will Graham Celebrations in 2014. But, as Billy Graham once pointed out, these events aren't just carried around in a briefcase to enjoy immediate success and salvations when opened. They take time, planning and—above all—lots and lots of prayer.
The year 2015 will be another busy one with 28 Festivals and Celebrations on the calendar. These Gospel-centered events will be held across the globe in places like Spain, India, Japan, Brazil, Ukraine, Tanzania, Canada, the Philippines and around the U.S. Although the events eventually come to an end, churches will continue coming together to disciple new believers long after.
Please pray that churches around the world will unite in the common goal of sharing Christ with their communities, and that Christians will boldly invite their non-Christian friends to hear the Good News.
Internet Evangelism
The Gospel isn't just shared in large-scale scenarios like Festivals or Celebrations, but one on one through the Internet.
With over 2 billion Internet users around the world, millions take their spiritual questions online every day. BGEA's Internet Evangelism ministry, Search for Jesus, is equipped to respond to them right where they are through online chat, email or a free discipleship course—and even point them to a local church. Trained volunteers provide that one-on-one connection.
Since the ministry began in early 2011, more than 5.7 million people have indicated faith in Christ. The ministry is also working with partner sites in the United States, the U.K., Portugal and the Philippines.
Please pray for Search for Jesus volunteers who engage hurting people online. Pray for the ability to listen well and for God to bring the right words to mind as they communicate. Also pray that local churches will continue getting involved in this ministry.
My Hope
Sharing your faith doesn't have to be hard. My Hope with Billy Graham is a simple way to share Jesus by building relationships with people, then inviting them to watch a compelling short film and briefly sharing your own story of faith.
This year, the U.K. joined the United States and Canada in this grassroots movement. Thousands of churches got involved and found ways to show an evangelistic short film in their communities. Other participants showed a short film in their homes, in jails, on college campuses or in community venues. Many showed Billy Graham's latest film, Heaven, featuring real-life stories about life and death. Churches in the U.K. showed The Cross, which was broadcast around the U.S. last year in conjunction with Mr. Graham's 95th birthday.
People are still committing their lives to Christ through the My Hope movement as they see these videos on DVD or watch them online. Italy will join the My Hope movement in 2015.
Please pray that people will have the desire and intentionality for sharing their faith as God calls us to do. Pray for wisdom in equipping local churches to reach their communities for Christ and for God to guide the My Hope team in the making of next year's short film. Also pray that the Holy Spirit moves people to see their need for a Savior.
Rapid Response Team
This year alone has seen some devastating disasters—both natural and man-made. From flooding in Saskatchewan, Ontario and New Brunswick, to mass murders in Calgary, AB, and a police shooting in Moncton, NB. BGEA's Rapid Response Team chaplains are ready to deploy at any given moment to offer emotional and spiritual care to the grief-stricken.
They pray with people reeling from disaster and comfort them with their presence and words of hope and encouragement. Some even ministered to volunteers at Operation Christmas Child processing centres across Canada this past year.
The year 2014 saw 302 chaplains involved in a total of 18 deployments, ultimately praying with more than 11,400 people.
Please pray for discernment and the ability to carry out the assignments God puts before us with integrity that will honor Him and those we serve.
TV Telephone Ministry
If you ever watch a Billy Graham Classic on TV, you might notice a phone number pop up on your TV screen. That number goes to one of BGEA's 3,000 volunteers who are trained to talk to people about their spiritual needs.
The TV Telephone ministry has more than 30 locations across the U.S. and Canada. More than 6,500 people made first-time commitments to Christ through this ministry in 2014, with thousands more deciding to recommit their lives to Him.
Please pray for the volunteers who make this ministry possible and are always willing to answer the call. Pray for focus and wisdom as they respond to people's spiritual needs, and for their own well-being following any difficult calls they may receive.
Online Training
For more than six decades, BGEA has developed practical and effective strategies for evangelism. You can study these time-tested principles through one of three online training programs, such as Schools of Evangelism. This program teaches you how to share your faith, follow up with new believers, and care for people who are suffering.
Please pray that online training participants will be encouraged and equipped to boldly share the Gospel, reignite their passion for evangelism, and reach out to those around them to provide emotional and spiritual care during the everyday tragedies of life.
Give To Where Most Needed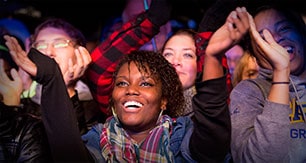 Help us fulfill our mission of proclaiming the Gospel of the Lord Jesus Christ to all we can by every effective means available to us and by equipping others to do the same.