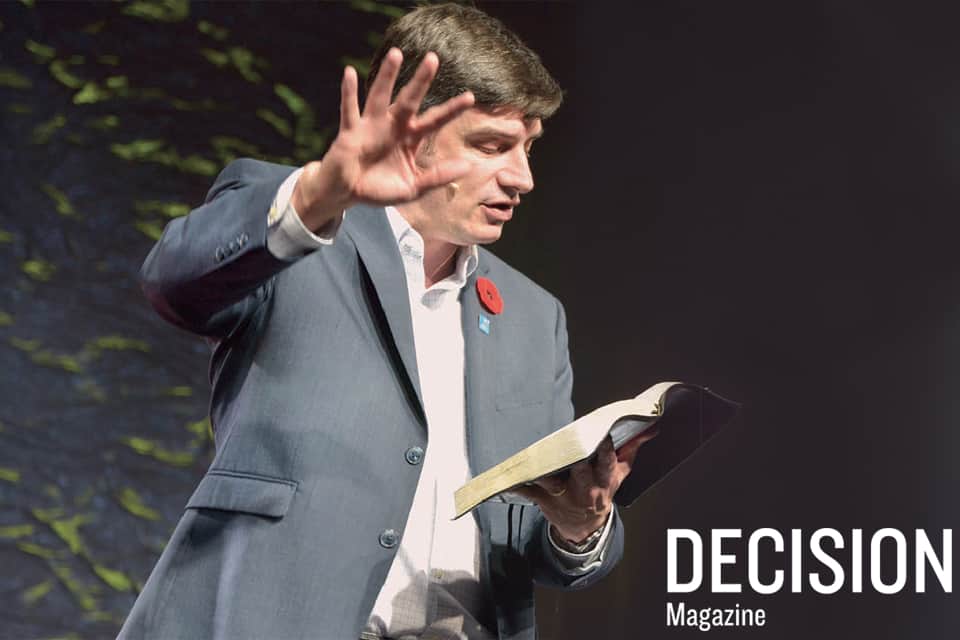 Subscribe to Decision
Get your own subscription, or renewal, or bless someone by giving Decision Magazine as a gift.
SUBSCRIBE NOW
"A lot of young people feel like there's got to be more to life than what they're experiencing," Will Graham told the 1,700 people attending the second night of the Billy Graham Evangelistic Association of Canada's Prince Edward Island Celebration of Hope.
Twenty-two-year-old Brittany was one of those people. After a string of abusive boyfriends, several weeks of living in a tent, and panhandling for money to survive, she knew something had to change.
"Maybe some of you here want to give up," Will said. "But God still has a plan and purpose for you. He wants to come into your life."
Brittany decided she wanted in on that plan and purpose, so when Will asked people to come to the front of the stage at Charlottetown's Eastlink Centre and publicly commit their lives to Jesus Christ, she accept-ed the invitation.
I definitely have more hope," she said shyly and quietly after praying with a volunteer counselor.
Brittany was among more than 5,000 people from P.E.I. and Nova Scotia who attended the three Celebration outreach evenings—listening to music and testimonies from Christian artists, and the Gospel message of hope from Will. Another 42,000 from 13 countries watched live-streamed video of the second and third nights on the Internet.
And more than 400 people dedicated or rededicated their lives to Christ, who "came to seek and to save the lost" (Luke 19:10, ESV), through the Celebration.
Brittany went to the Celebration after a Charlottetown resident told her about the event and suggested she attend. Then she found out her stepmother and two younger sisters had gone the first night and were planning to go again. She needed no further convincing.
"I'm happy because I know I'm loved now," Brittany said. "I can feel it, and I'm not going to be on my own anymore."
Standing nearby, Brittany's stepmother, Lynette, said "my knees are worn out from praying for her, so what's happened here is almost not real to me yet. But this feels like a break-through. We always thought that as long as Brittany's breathing, there's hope for her."
Bonnie Bowman brought two colleagues, Krista and Lori, from the Charlottetown hospital where they all work, to the Celebration's final night. When Will invited people forward to make faith commitments, Bonnie decided to rededicate her life to Christ.
"Once Bonnie said she was going forward, I knew I was going too," said Krista, a single mom of adult kids. Krista had attended church since child-hood, but she had never invited Christ into her heart.She had been dealing with some difficulties in her life, but tonight she trusted those issues to Christ. "I'm happy because with Jesus, my life is going to get better and better," she said. "I feel a weight is lifting off me. I've cast my cares to Him."
Lori, who also attends church, had thought about committing her life to Christ before the Celebration, but had never done so.
Will's words showed her a way to move forward in the aftermath of a failed marriage and a struggle to keep her home.
"It's been very stressful, but I feel really good knowing I've accepted Jesus as my Savior," Lori said.
After hearing all this from her colleagues, Bonnie felt amazed at what God had done.
"I'm very grateful," she said.
Pastor David DuBois, who chaired the local leadership team with David Rashed, was elated by all he witnessed at the Celebration.
"It's so wonderful to see the spirit of God at work," he said.
"My heart's desire is this would be the start of a revival in this province."
David Rashed was pleased to see how the Celebration showed P.E.I. church leaders that they could play a major role in presenting a large-scale evangelistic outreach.
"I'm hoping there are more ecumenical things down the road where we all work together," he said.
©2018 BGEA
Give To Where Most Needed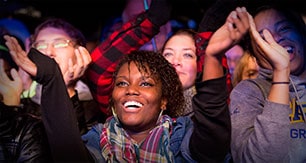 Help us fulfill our mission of proclaiming the Gospel of the Lord Jesus Christ to all we can by every effective means available to us and by equipping others to do the same.