Calgary, Alberta – Jan. 8, 2020 – Three crisis-trained Canadian Billy Graham Rapid Response Team chaplains will be traveling to Australia to help Australian chaplains provide spiritual and emotional aid to people who have lost their homes and possessions to catastrophic wildfires.
"So many lives have been devastated by these fires," said Merle Doherty, who manages the Rapid Response Team. "The need is great for people willing to provide a compassionate, listening ear and, if requested, prayers."
The massive blazes have killed at least 25 people and dozens remain missing. In addition, almost 2,000 homes have been destroyed and over 21 million acres burned.
Chaplains leave Canada on Jan. 11 and arrive in Australia on Jan. 13. They will accompany staff and volunteers deployed by our sister organization, Samaritan's Purse. Those staff and volunteers will be cleaning up damaged properties and sifting through ash and rubble to find anything that might have survived the flames.
Rapid Response Team chaplains will also be ministering to these staff and volunteers, as well as emergency responders.
Billy Graham chaplains have responded to wildfires in the British Columbia communities of Ashcroft and Williams Lake in 2017, and Telegraph Creek in 2018. In Alberta, chaplains helped victims of wildfires in Fort McMurray in 2016 and Paddle Prairie in 2019.
Chaplains have also provided emotional and spiritual support in the name of Jesus Christ after tragedies such as the European terrorist attacks in Paris, Nice, Munich, Berlin, and Brussels, and the 2018 Humboldt Broncos bus crash.
Donations welcome
Support the Billy Graham Evangelistic Association's Rapid Response Team chaplain ministry by donating at BillyGraham.ca/rapidresponse (click on "Donate Now") or calling 1-800-293-3717.
About BGEAC
The Billy Graham Evangelistic Association of Canada, established in 1953, partners with churches and Christian communities across Canada and worldwide to proclaim the Good News of Jesus Christ in word and deed. Through relevant language and methods, we share the saving message of Jesus to spiritually searching people of all ages and cultures. Please visit BillyGraham.ca to learn more.
Media inquiries:
Frank King
News Media Relations Manager
Billy Graham Evangelistic Association of Canada
403-990-0161 (mobile)
fking@bgea.ca
Give To Rapid Response Team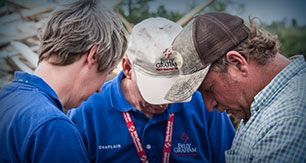 Your gift will provide for the training and deployment of our Rapid Response Team chaplains, who are deployed when natural or man made disasters strike in Canada and abroad. RRT chaplains serve and support hurting people affected by crisis, and share the message of hope found in Jesus.