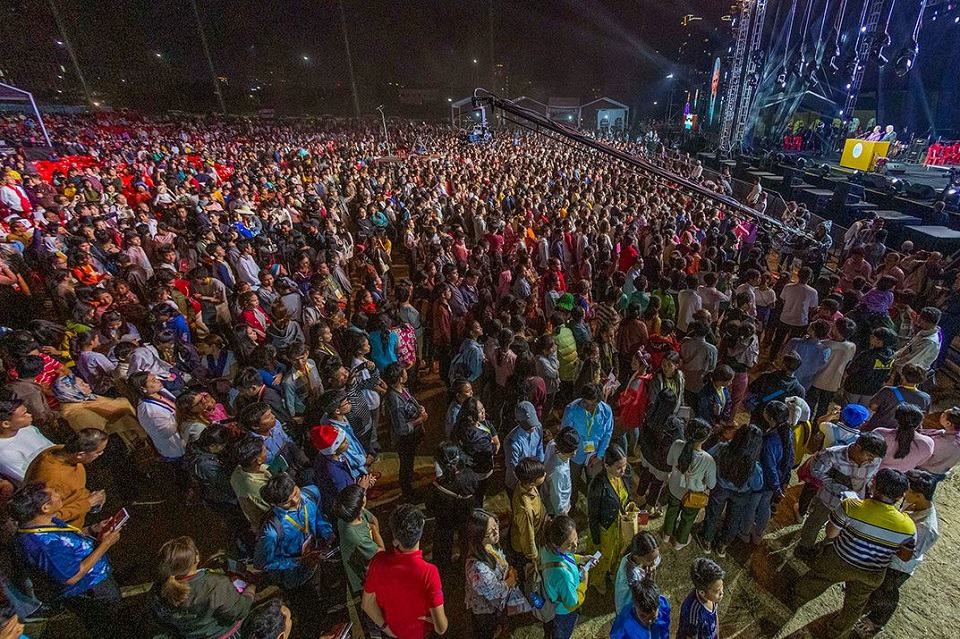 A fter hearing the Gospel for the first time at the Love Phnom Penh Festival in Cambodia, Chan wept with joy, knowing that finally her deepest need had been met.
Subscribe to Decision
Get your own subscription, or renewal, or bless someone by giving Decision Magazine as a gift.
SUBSCRIBE NOW
"Maybe you feel that you're small in the eyes of God," Franklin Graham preached on the final night of the Festival in early December. "Maybe you feel that your life is not important. You are important to God. He loves you. How do you know? Because the Bible, the Word of God, tells us so. The Bible says that 'God so loved the world, that he gave his only begotten Son, that whosoever believeth in him should not perish, but have everlasting life'" (John 3:16, KJV).
Chan, a Buddhist, made her way to the front of the Phnom Penh City Center Driving Range when Franklin invited people to trust Christ. She was joined by Sam, a counselor from a local church, and the two quickly realized they had a lot in common. 
"Before tonight, she felt that nobody loved her at all," Sam said. "I hugged her because my story before I knew Christ was the same as her story. So, when I met her, I also cried with her."
Chan, 39, told Sam she could identify with Zacchaeus, whom Franklin preached about from Luke 19:1-10. Like the tax collector, Chan felt empty despite her earthly riches.
"She had never heard that any god can forgive her sin," Sam said. "This was the first time in her life she heard that, which is why she accepted Jesus Christ." 
Leading up to the Festival, Sam had prayed fervently to witness the power of the Gospel in Cambodia. "I believe that it's not an accident what happened last night and tonight," she said. "I wanted to be a counselor because I want to see other people who were broken, who have a broken life, find a new life. And I met two ladies, one last night and Chan tonight, who were crying after hearing the Good News because of the love they had never felt or heard of before." 
Cambodia, a country of more than 16 million in mainland Southeast Asia, is one of the poorest nations on the Asian continent. From 1975 to 1979, about one quarter of the population was killed during a mass genocide by the Khmer Rouge communist regime. The regime, which operated under the brutal leadership of Pol Pot, severely persecuted Christians and destroyed churches.  
Today, across the country's 24 provinces, the dominant religion is Buddhism, which nearly 98% of people follow with its temples and search for Nirvana. Buddhism doesn't teach the existence of a personal god, much less the only true God—who in love took the world's sins on Himself as a once-for-all atonement. But during the Love Phnom Penh Festival, Franklin Graham clearly shared the unique hope found only in the Gospel of Jesus Christ.
The Dec. 7-8 event marked the first ever large-scale evangelistic gathering held in Cambodia and the first time the Billy Graham Evangelistic Association has held an event there.
More than 250 churches in Phnom Penh, the country's capital city, came together to see people turn to Christ.
In all, 23,700 people heard the Good News during the two-day event and more than 1,000 made first-time decisions for Christ. In addition, some 9,500 people from 45 countries watched the online livestream, with 120 indicating a spiritual decision.
Preaching from Luke 15:11-32, Franklin shared the story of the Prodigal Son on the opening night of the Festival.
"People are searching for happiness," he said. "Man is searching for purpose and meaning to life, but deep down inside something is missing. You don't have that fulfillment. You see, we have a vacuum and an emptiness that's inside us, and that vacuum can only be filled by God Himself. And when we come to God through faith in His Son, Jesus Christ, He comes into our heart. … He wants you to have peace. He wants to give you joy. He wants you to have fulfillment."
One woman searching for fulfillment was 53-year-old Lao, a Buddhist, from a nearby province.
"I came forward because I want to accept Jesus Christ," she said. "I understand now that the only way to Heaven is by following Him, and I need to follow His Word."
Lao was invited to the Festival by a friend from a local church in her village. "We've been friends for about three years," her friend said. "I invited her because I want her to understand more about Jesus. I have joy tonight to see my friend find and grow in Jesus Christ."
Friends Nole and Sasda, both 13, were also invited by a friend from a local church. 
"These two boys joined the church but never accepted Christ," Ngoun, their counselor, said. "So they just go to the church to fellowship with friends but never understood about salvation. They came forward because they understood and believed they are sinners and they wanted salvation." 
One young man who came forward to accept Christ was a Buddhist who received an invitation during a flight from China to Cambodia just two days before the Festival. He was traveling to Cambodia to live in Phnom Penh temporarily for work.
The young man joins a growing Chinese Christian community, as an increasing number of Chinese are relocating to various countries, including Cambodia.
"We have 14 Chinese churches in Phnom Penh and at least 200,000 Chinese in the city," said Daniel Ma, senior ministry representative for BGEA's China ministry. "For the 14 churches, they average about 50-100 members, which means in this city there are less than 1,000 [Chinese] Christians—very, very small compared with many other cities everywhere else." Some 70 Chinese people gave their lives to Christ during the Festival.
As the first night came to a close, the church in Cambodia was excited to see how God would move. A woman named Agathe, a French missionary to Cambodia, was particularly eager, as the Festival was something God laid on her heart many years ago. Agathe was the assistant director of the 150-voice Festival choir that consisted of volunteers from multiple churches and denominations.
"When I saw the Khmer people, I saw the hope of them, the hope for their country," Agathe said. "So my prayer for Cambodia is for hope. This country has so many difficulties, and people are so broken and have much sadness. There's lots of alcohol, sexuality problems and addiction. When I pray for Cambodia, I pray to see many become Christians and be saved. And what I see is that the only way is to receive Jesus."
"It's time for Cambodia to return back home," said Sokheng, a volunteer at the Festival. "Cambodia belongs to God. We need God. Without God we have no hope."
Give To Festivals and Celebrations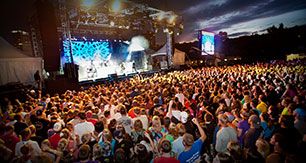 Your support will help us proclaim the Gospel of hope in Jesus through our Festival and Celebration evangelism events, which feature inspiring music from well-known Christian artists, powerful stories of transformation and Gospel messages by Franklin and Will Graham.