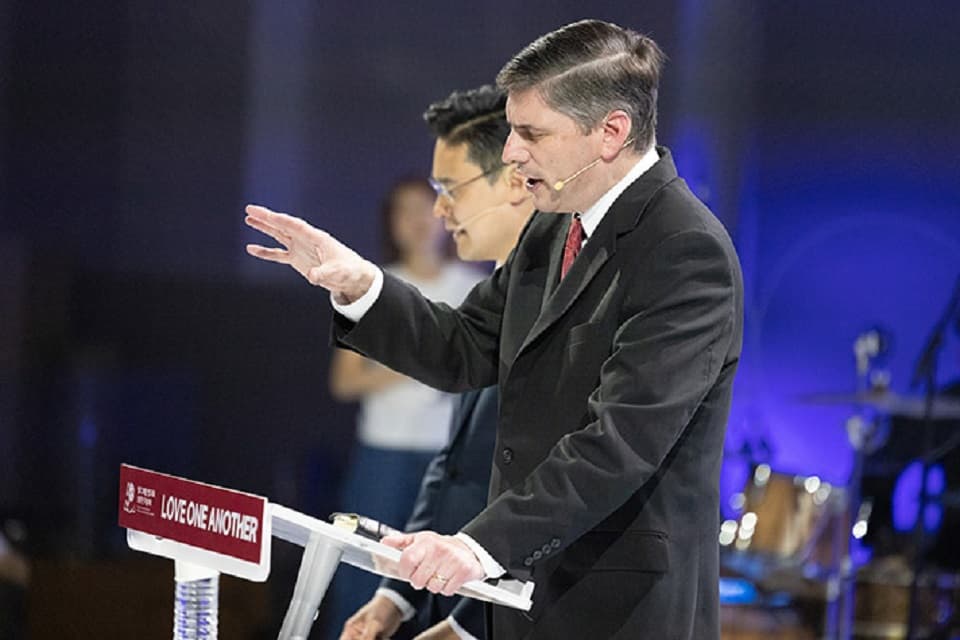 As part of a special weekend celebration, Franklin Graham and Will Graham are helping commemorate the 50th anniversary of Billy Graham's historic 1973 Seoul, South Korea, Crusade. Will Graham shared the Gospel at a youth rally on Friday, and Franklin Graham will share the Good News Saturday at the Seoul World Cup Stadium.
A huge crowd filled the vast sanctuary of SaRang Church in Seoul on Friday as Korean students from around the East Asian nation came together to celebrate God's faithfulness.
Many came from a Christian family. Others were hearing about God's love for the first time.
After Will Graham shared the Gospel, hundreds made life-changing decisions to follow Jesus Christ—an answer to the prayers of many.
The youth rally was part of a weekendlong 50th anniversary celebration of Billy Graham's historic Crusade in South Korea. The 1973 event, attended by 3.2 million people—including 1.1 million on the final day—was a catalyst for exponential church growth in Korea.
Friday night's focus was on reaching and raising up the country's spiritual leaders of tomorrow.
"I'm so grateful I have the opportunity to talk to the future generation of Korea," said Will Graham. "Many people here in 1973 gave their lives to Jesus Christ, and it forever changed Korea.
"That's what this weekend is all about. We want to see God work in people's lives again."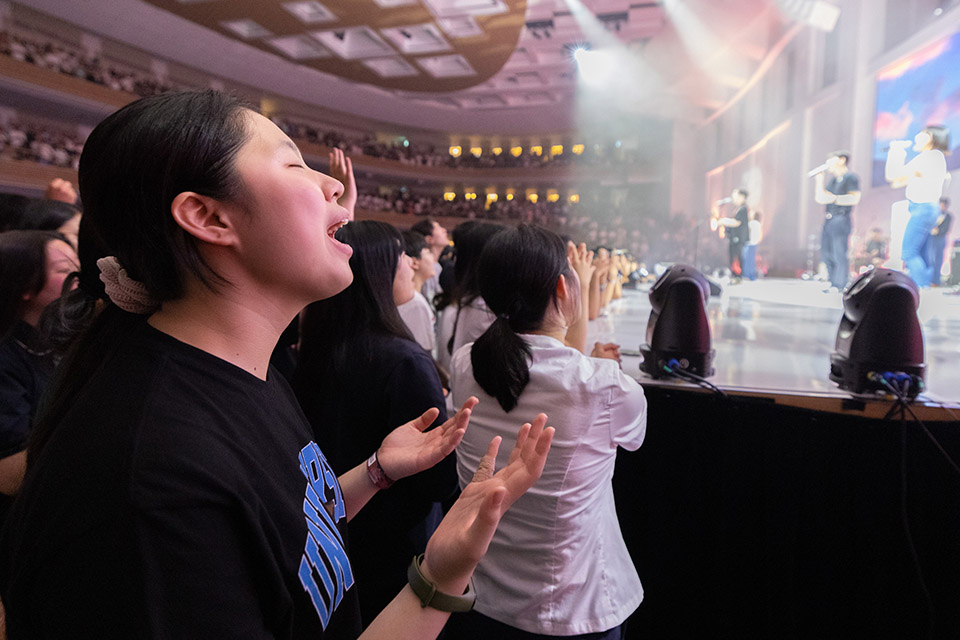 Aaron Kim agrees. The 32-year-old is the grandson of Dr. Billy Kim, a renowned evangelist and Billy Graham's interpreter during the 1973 Crusade.
Aaron, who works in church media, knows it's crucial for young people to realize there's more to life than what they see on social media.
They're looking for satisfaction in shallow places, he said. "They have easy access to everything, and yet the Gospel … seems like a reach.
"Jesus sometimes feels so far away [to them]."
But His presence Friday night was unmistakable. At times during the service, young people stopped singing to fervently pray out loud, asking God to forgive their sins—and acknowledging Jesus Christ's sacrifice on the cross.
"Jesus died on the cross for everyone," said Will Graham. "He died for the Koreans. He died for the Japanese. He died for the Chinese and even the Americans.
"The single most important message of the cross is that God loves you."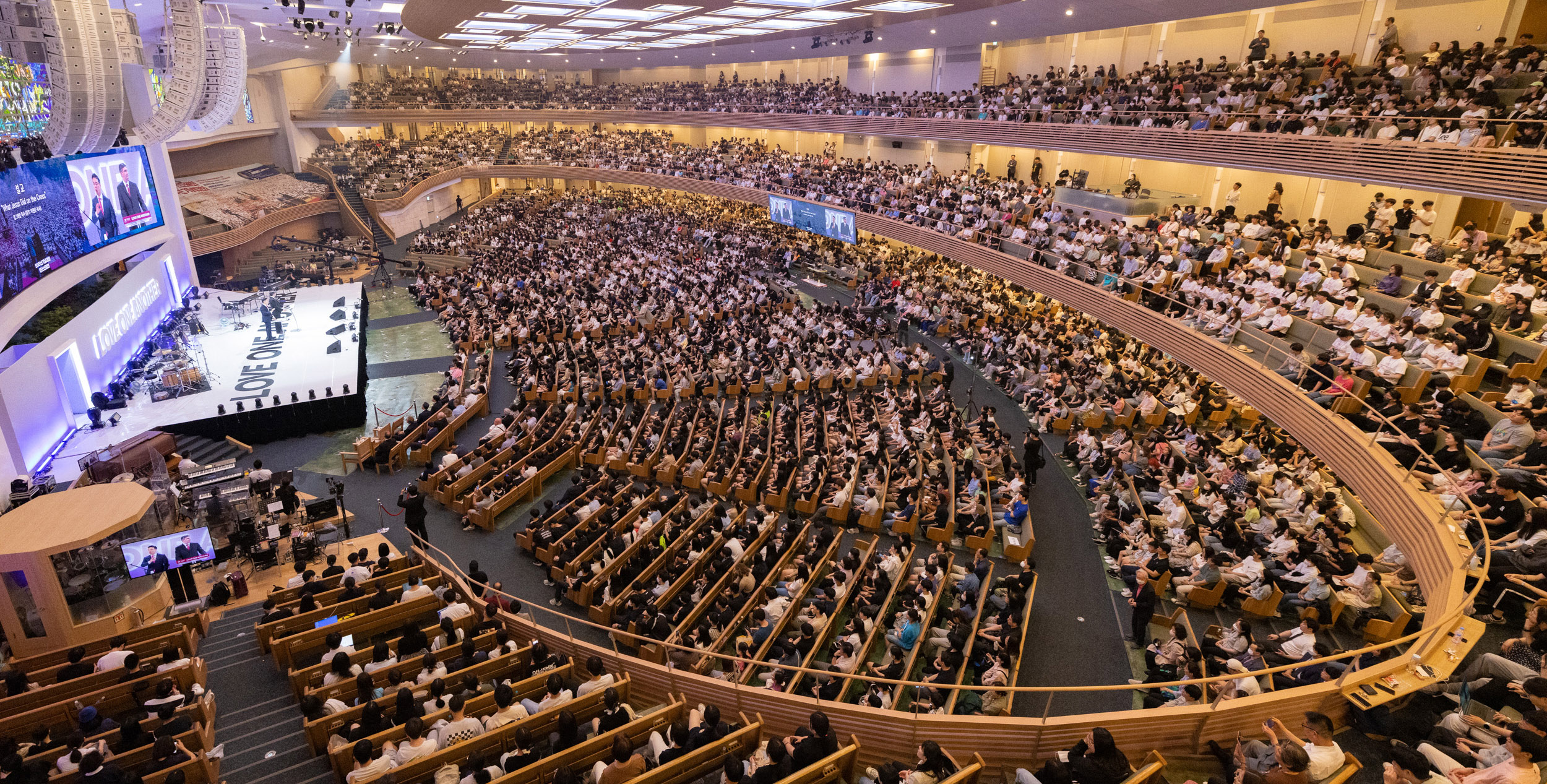 When Will Graham invited students to receive Christ in repentance and faith, Chu an Han was one of hundreds who responded.
"I realized that Jesus died for me," he said. Deeply moved by Will Graham's message, the teen prayed to surrender his heart to Jesus Christ. He said now he wants to go and share this same message with others.
Before the event began, a young woman named Genesis was eager to talk about her faith and how her struggles have only made it stronger. Wearing gold-rimmed glasses, the spunky brunette shared her story.
Weeks earlier her parents had caught her "doing something [she] shouldn't," Genesis explained. "I believe it was God's purpose I was caught."
After asking God to forgive her, the teen began taking her faith more seriously. "I'm trusting God for my future," she said confidently, adding that she recently decided to get baptized.
"I try to encourage younger students at my school," she said. "I have friends who have questions about God." Friday evening's service encouraged the teen to live boldly for Christ.
Equipping students like Genesis and Chu an Han is imperative for the future of South Korea—and the world. Before the night ended, Will Graham thanked God for what could be another historic night.
"Lord, I pray that You raise up this new generation to have an impact here in Korea," he said. "I pray there's men in here who will become pastors. I pray there's men and women here who will be sent around the world as missionaries.
"Use this generation to change all of Korea and to change the whole world."
Do you know Christ as your personal Savior? Pray now.
Give To Where Most Needed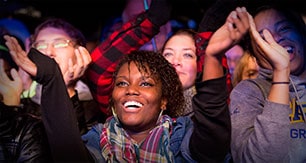 Help us fulfill our mission of proclaiming the Gospel of the Lord Jesus Christ to all we can by every effective means available to us and by equipping others to do the same.