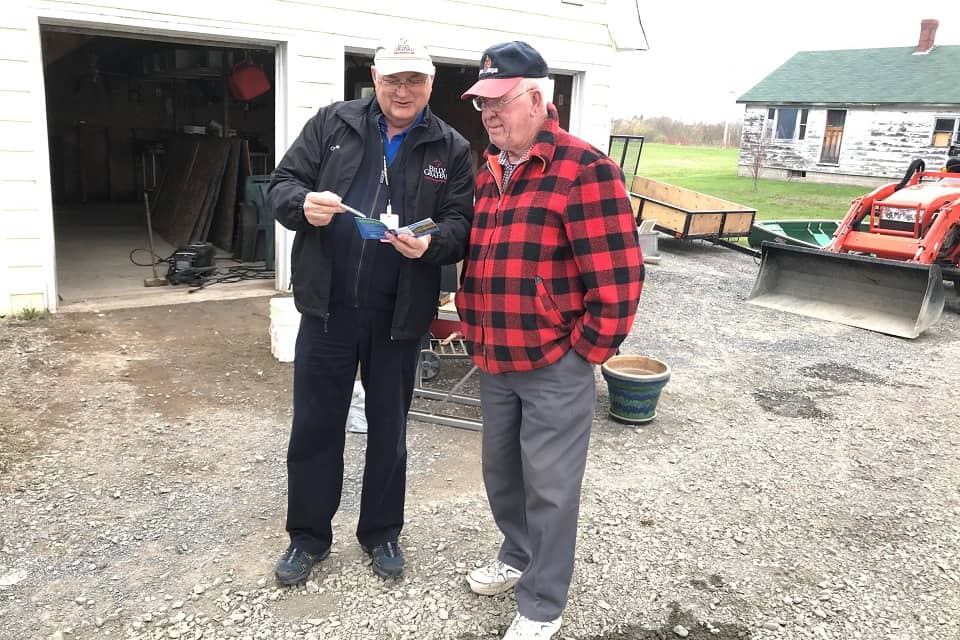 After the flooded basement of their New Brunswick home was cleaned up in 2018, Shaun and his wife had the space renovated so their adult son could live there. You can imagine their heartbreak and disappointment when the Saint John River spilled its banks in Maugerville and flooded their basement again this year.
A Billy Graham Rapid Response Team (RRT) chaplain visited Shaun while our sister organization, Samaritan's Purse, cleaned up the damage. Rick Benner spent time with Shaun outside his home, listening to his story and providing emotional support.
Their conversation continued until God opened the door for Rick to ask Shaun a question that changed everything. "If you were caught in a flood and you didn't make it out alive," he asked, "where would you go?" Shaun replied,
"I don't know, and no one can know."
"I looked him right in the eyes," Rick said and then firmly declared,
"You can know."
Rick opened a copy of the Billy Graham Evangelistic Association's "Steps to Peace With God" booklet and explained how Shaun could know his eternal future for certain.
Shaun listened intently and agreed he was a sinner. He confessed to Rick that he felt remorse over his behavior and life choices, "but he didn't know the Gospel," Rick said.
Rick explained Christ's life, death, and resurrection and then told Shaun: "God wants you to open the door to your life. Will you let Jesus into your life?"
Shaun acknowledged he was ready to surrender control of everything and, with Rick's help, prayed to receive Christ in repentance and faith. When asked what Christ gave him in the moments after dedicating his life to Him, Shaun used one word: peace.
Rick received permission to pass on Shaun's contact information to a local church, which is done for all who come to faith in Christ through a Rapid Response Team chaplain. That church will follow up with Shaun and invite him to a weekend service so he can get connected with other Christ followers in his community.
By the time their deployment in New Brunswick ended, crisis-trained RRT chaplains had prayed with almost 420 people as they spent time with flood victims, first responders,
and volunteers.
We praise God that 12 people dedicated their lives to Christ. "There is joy before the angels of God over one sinner who repents" (Luke 15:10, ESV). RRT chaplains also served recently in Ottawa, where hundreds of residents saw their homes damaged by the flooding Ottawa River. It's the third RRT deployment in the capital region in three years, following flooding in 2017 and tornadoes in 2018.
Please pray for our chaplains and the people they are comforting. Thank you for your prayers and financial partnership that is sharing the hope of the Gospel with people in crises in Canada and around the world.
Give To Rapid Response Team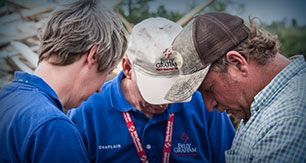 Your gift will provide for the training and deployment of our Rapid Response Team chaplains, who are deployed when natural or man made disasters strike in Canada and abroad. RRT chaplains serve and support hurting people affected by crisis, and share the message of hope found in Jesus.