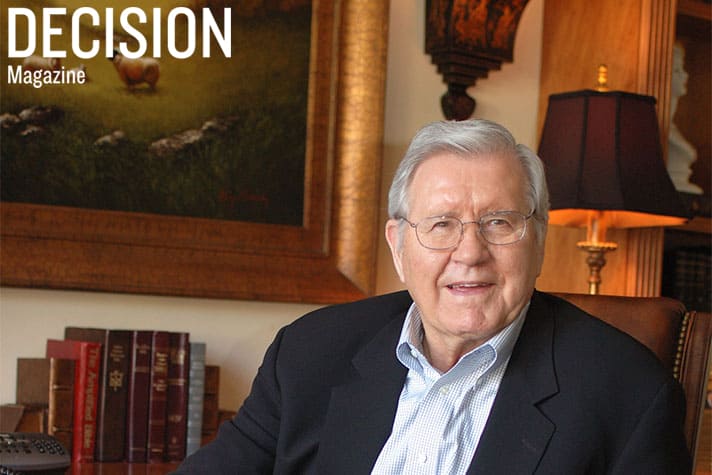 Subscribe to Decision
Get your own subscription, or renewal, or bless someone by giving Decision Magazine as a gift.
SUBSCRIBE NOW
Rick Barrows, 71, fondly recalls his days as a small child when his world-famous older brother, Cliff, would visit their hometown of Ceres, Calif., a suburb of Modesto.
Cliff, who passed away in 2016 at age 93, was 23 years older and traveling internationally as the music and program director for Billy Graham's Crusades.
"I didn't get to see him that often, but it was really special when I did," Rick said. "I used to cry a lot when he left. Everybody gravitated toward him. He was all just love, love, love."
Rick gathered with his two surviving siblings, Judy Mollett, 78, and Mary Jean Jennings, 93, and their spouses for a group interview with Decision the morning after Franklin Graham's Decision America California Tour stop in Modesto.
The event came 70 years after Billy Graham convened with Barrows, George Beverly Shea and Grady Wilson at a motel on California Highway 99 between Modesto and Ceres to develop the integrity guidelines for the ministry, which became known as the Modesto Manifesto. They were in the midst of a two-week tent Crusade in Modesto at the time.
Mary Jean was two years younger than Cliff. During their youth, she would play the piano while he sang and played the trombone at area churches and youth group meetings.
Judy, 17 years younger than Cliff, recalled how he would use his trombone to tickle her stomach when he was home practicing.
"He was always cutting up," she said. "One of the best stories about that was during a Crusade when they went to a restaurant with one of these swinging doors, and he acted like the door knocked him out. He was lying there flat on his back."
Cliff was known as a carrier of the joy of the Lord and helped congregations the world over sing jubilantly during Billy Graham Crusades.
Mary Jean said their aunt, Helen Griggs, was instrumental in the early development of his winsome ministry style.
"She traveled with an evangelist for several years," Mary Jean said. "She's the one who taught Cliff that people respond best to encouragement, not 'you can do better than that.' So he learned to always come at it the other way, to say 'that was wonderful, but let's see if we can go a step beyond.'"
Cliff lived out that advice as a brother. Despite his extensive travels, Judy said he always prioritized family.
"I called him when he was in Israel [in 1988] and told him Mom was dying, and he was on the next flight here," she said. "It was the same thing when our sister Shirley died [in 2000]. He was always willing to give up whatever he was doing. He was always somebody we could turn to. He was very dear."  ©2018 BGEA
Do you know the joy of the Lord? Start here.
>> Read more from Decision Magazine
Give To Where Most Needed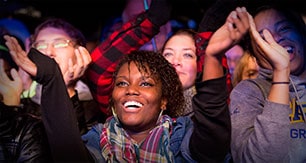 Help us fulfill our mission of proclaiming the Gospel of the Lord Jesus Christ to all we can by every effective means available to us and by equipping others to do the same.