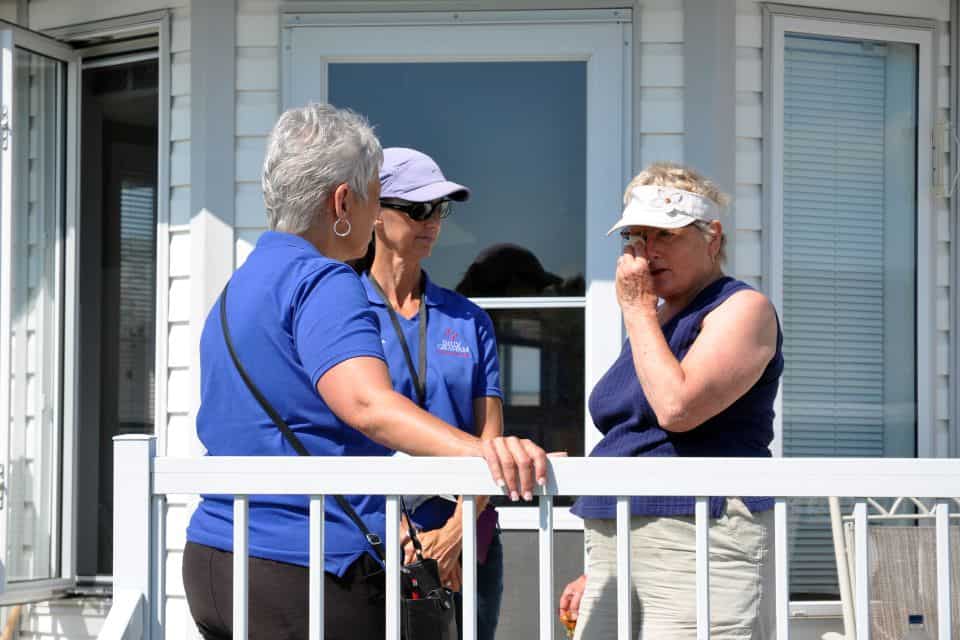 Above: Specially trained volunteer chaplains provided compassionate support at the Calgary floods in 2013. Rapid Response Team chaplains will be on site in Cape Breton to offer spiritual and emotional support.
As thousands of residents of Sydney, NS, survey the damage from extensive flooding, the Billy Graham Evangelistic Association of Canada (BGEAC) has sent Rapid Response Team chaplains to the area to provide emotional and spiritual support to struggling residents and volunteers.
About 200 millimeters, or seven inches, of rain fell in the Sydney region during a 24-hour span October 10, the remnants of Hurricane Matthew. As a result, hundreds of homes have been flood-damaged the Sydney region.
"While responding to physical needs after a disaster is vital, responding to emotional and spiritual needs is just as important," said Rapid Response Team Manager Merle Doherty. "That's why our chaplains encourage and pray with people in distress, including affected residents and volunteers who are helping with the clean-up."
Our chaplains often work alongside our sister organization, Samaritan's Purse, which is responding to the flood by sending a specially equipped Disaster Relief Unit tractor trailer stationed in New Brunswick. That unit will work with local volunteers to help flood victims.Working with Samaritan's Purse, Billy Graham Rapid Response Team chaplains have responded to flooding in New Brunswick (2008, 2010, and 2012), in Quebec and in British Columbia, plus devastating flooding in 2013 in southern Alberta, and last summer's catastrophic wildfire in Fort McMurray, AB.Chaplains have also served in the name of Jesus Christ after tragedies such as the April 2014 murder of five people in Calgary, and European terrorist attacks in Paris, Nice, and Brussels. Pray and support
Our Rapid Response Team chaplains are standing by to help Canadians across the country. When a future need arises, we will be there to offer hurting people hope for today, tomorrow and eternity. If you would like to equip this ministry, please consider making a donation today.