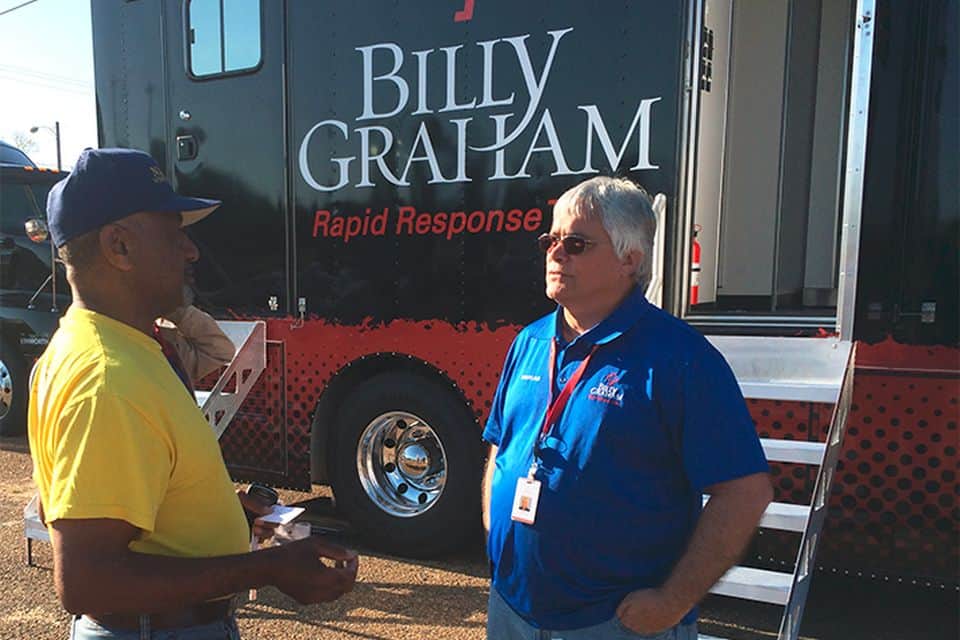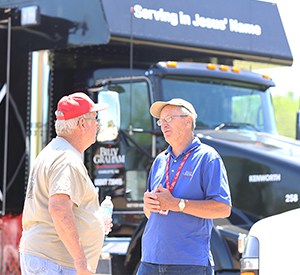 Chaplain coordinator Mike Mattingly talks in front of the Mobile Ministry Center at the Louisville Coliseum in Mississippi.
Mike Mattingly wasn't sure what he was expecting, but it wasn't quite this.
The chaplain coordinator with the Billy Graham Rapid Response Team—who has deployed more than 20 times—spent almost a month in Louisville, Miss., where the Billy Graham Evangelistic Association's Mobile Ministry Center was first utilized after a late-April tornado ravaged the area.
"I don't know who had the vision for that thing," Mattingly said, "but it turned out very well."
Parked next to a Samaritan's Purse Disaster Relief Unit tractor trailer, the Billy Graham Rapid Response Team's Mobile Ministry Center provided a place for first responders to come and get away from the chaos of the disaster.
BACKGROUND
On May 3, Fort McMurray, Alberta was evacuated due to a massive wildfire that engulfed the city of 80,000.
Over 2,400 buildings were destroyed in the fire. Residents have begun returning since the evacuation order was lifted June 1. Our Rapid Response Team chaplains have been helping since the outset. Municipal authorities have invited us into the city to provide support, encouragement and prayer to all who need it.
It's also a place for refreshment, spiritually and physically, with cold water and hot coffee at the ready.
The unit was brought to Canada in May for chaplains working in the northern Alberta city of Fort McMurray, after a catastrophic wildfire burned more than 2,400 buildings in the area, most of them homes.
Working out of the Mobile Ministry Center, Rapid Response Team chaplains accompanied Samaritan's Purse volunteers as the volunteers helped Fort McMurray residents who needed fridges full of rotten food moved out of their homes.
In addition, the volunteers sifted through the ashes of many burnt homes, looking for keepsakes and heirlooms that might have survived the raging flames. As they did this, chaplains provided a listening ear, a shoulder to cry on and, if appropriate, prayers with the homeowners.
The Mobile Ministry Center is hard to miss. It's painted black with a logo for the Billy Graham Evangelistic Association in bold red and white lettering. It's also large in scope with seating for 27 people inside and includes tables to work on, which several first responders took advantage of.
The key to utilizing the Mobile Ministry Center, according to Mattingly, is location. In Fort McMurray, the unit was parked alongside a Samaritan's Purse Disaster Relief Unit. Both were in a highly visible location at Fort City Church.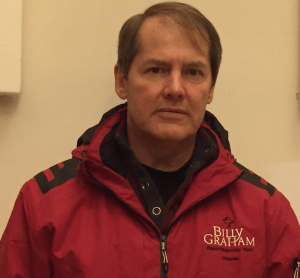 Merle Doherty, Rapid Response Team's Canadian manager
"The unit provided an exceptional, centralized, visible office for our chaplains that the community was able to see and walk up to," said Merle Doherty, the Rapid Response Team's Canadian manager. "As a result, they received ministry they may not have received otherwise."
Almost 190 residents and first responders visited the Mobile Ministry Center in six weeks, receiving prayer and a sympathetic listening ear from chaplains.
Canadian chaplains will have their own Mobile Ministry Center to use for future deployments, as one will be delivered in fall to the Billy Graham Evangelistic Association of Canada.
Give To Rapid Response Team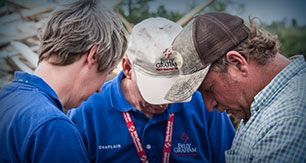 Your gift will provide for the training and deployment of our Rapid Response Team chaplains, who are deployed when natural or man made disasters strike in Canada and abroad. RRT chaplains serve and support hurting people affected by crisis, and share the message of hope found in Jesus.