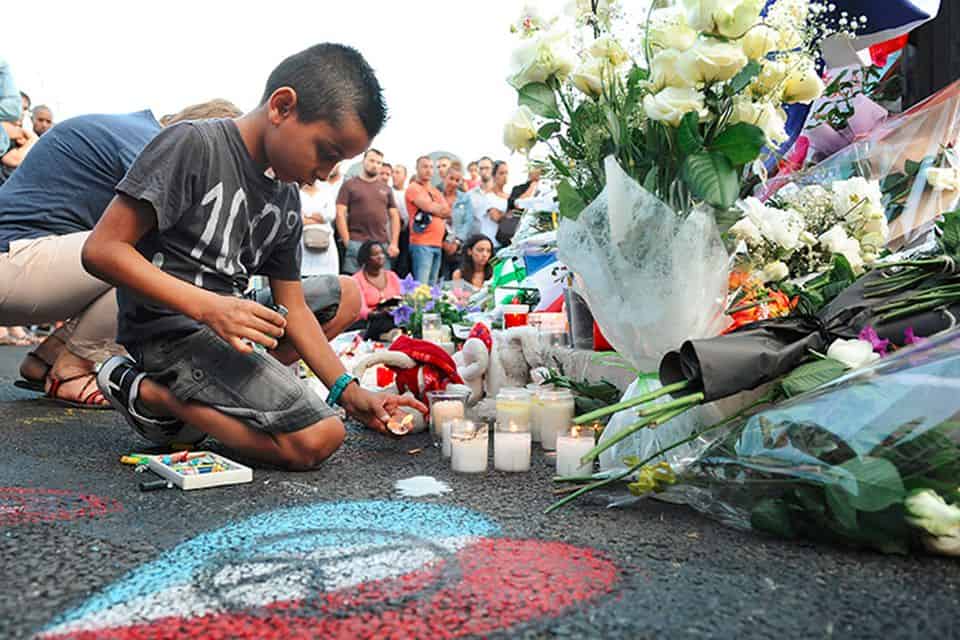 The beautiful city of Nice on the Riviera in Southern France will never be the same. The contrast of palm trees, beaches, and sea with the devastation and horror that happened on July 14 (France's national holiday) is striking. The "Promenade des Anglais" (pedestrian sidewalk by the sea) will always remind people of that terrible night.
Right after the fireworks, a large truck ploughed into the crowd, killing 84 people (many of them children) and leaving hundreds injured.
The Billy Graham Evangelistic Association sent 12 crisis-trained Rapid Response Team chaplains to Nice to minister to the emotional and spiritual needs of residents, tourists, and first responders.
Praying in Jesus' Name
I noticed a grieving Moroccan lady sitting on a railing close to a memorial. I approached slowly and just sat there for a while. Then I asked if she knew the any of the people being memorialized. She said yes, one was her cousin and the other her teenage nephew.
The twin sister was in a coma in the hospital. I understood that she was Muslim because she mentioned Ramadan. She also said that this kind of attack is not helping her Muslim community. She had received insults saying that she should go home.
After chatting some more, I told her who I was and asked if I could pray for her in Jesus name. She agreed and I prayed.
Then some family members arrived and she introduced me to them. Laurent, my husband (also a Rapid Response Team chaplain) joined our group and started talking with the men.
The lady I prayed for left, but another woman from the same family sat down by my side along with two children and a younger lady. Laurent joined us too and we chatted about what happened.
Laurent then explained our mission and offered to pray for them in Jesus name. The woman agreed and he prayed. We stayed a little more and when we started to leave, the whole family came and individually thanked us. It is important to show love to Muslims, especially when the racial tension is so high.
The next day, Laurent was taking the wrong bus to go to the training session. When he sat down, the lady next to her recognized him as this was the same Muslim woman for whom we had prayed. She thanked him again and also shared that her niece that was in the hospital has awaken from the coma and is going to be all right. Praise the Lord!
Language Differences Do Not Matter
At the memorial site in Nice, an elderly Italian lady approached me in Italian about the meaning of "Nissa la Bella", written on a ribbon. She asked what language it was. This started a conversation in two languages (me in French and her in Italian).
We were able to understand each other sufficiently. At one point I told the lady that I am a Christian. The lady replied that she is an agnostic. I asked if I could pray for the victims' families. The lady said that she didn't believe in God, but I said that it's okay because I did.
The lady agreed and then I put my hand on her shoulder and prayed. After the prayer, the lady thanked me and gave the typical French greeting. We talked some more before parting ways.
Interestingly enough, a couple of days later, I saw this lady on a different street. This time, Laurent was with me. He speaks some Italian, so they had a lively conversation on recent events and faith.
Laurent was able to give his own testimony and explain the personal relationship we can have in Jesus. The lady was quoting different philosophers and didn't believe in the accuracy of the Bible, but seeds have been planted in her heart.
Offering Comfort and Support
Yesterday we encountered a grandfather who had watched his 7-year-old granddaughter die. He was sitting on the pavement at the spot where the girl had passed away, in front of an altar that he had made of candles and roses. His grief was so raw that my husband (Laurent, also a Rapid Response Team chaplain) and I just sat beside him for a long time. I stroked his arm as he sobbed and groaned.
He kept on repeating that he should have died instead. There are no words that we could have said to make him feel better. We offered water, helped him light the candles and stayed with him. After a while, he stood up, hugged us and thanked us. We told him we would be back the next evening to check on him.
God is the only one who can comfort such a grieving man. We are hoping, when we return to the memorial, to be able to pray with him. But yesterday was not the time to do that.
The Billy Graham Rapid Response Team exists because of BGEA's faithful donors. If you would like to give to the Rapid Response Team to help send crisis-trained chaplains to minister to hurting communities, you can make a secure donation from your computer or mobile device.
Give To Rapid Response Team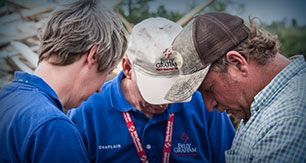 Your gift will provide for the training and deployment of our Rapid Response Team chaplains, who are deployed when natural or man made disasters strike in Canada and abroad. RRT chaplains serve and support hurting people affected by crisis, and share the message of hope found in Jesus.