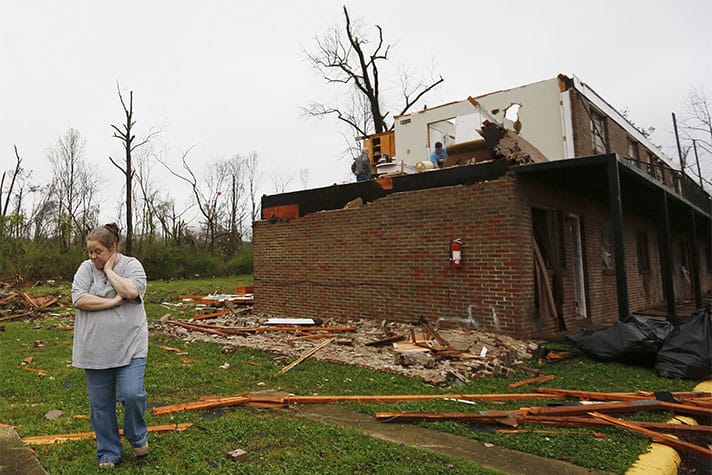 The Billy Graham Rapid Response Team (RRT) has deployed over a dozen crisis-trained U.S. chaplains to Southside and Jacksonville, Alabama, after tornadoes raked through the areas Monday night.
Moving southeast from Southside to Jacksonville, the storm produced at least three tornadoes, according to the National Weather Service. News reports say an off-duty Georgia state trooper was killed and several people were injured.
The twisters caused widespread damage in eastern and northern Alabama, with Jacksonville State University among the areas most affected. Fortunately the school was on spring break when the storm hit and many students had left campus.
Over a dozen chaplains will be present to offer emotional and spiritual care between the two cities, which are less than 50 kilometres apart and have a cumulative population of more than 20,000.
The communities face a long recovery process with many buildings damaged or destroyed. Among those affected were a local church, university buildings, and multiple apartment complexes and homes.
The mayor of Southside invited Samaritan's Purse and the RRT to respond following the devastation. This marks the first RRT deployment to a natural disaster in 2018, and follows the passing of Billy Graham, founder of the Billy Graham Evangelistic Association (BGEA).
"Billy Graham was devoted to the proclamation of the Gospel," said Josh Holland, assistant director for RRT. "The same mandate God called him to is the same message being carried out through this ministry."
Recently, the ministry responded to shootings at a Parkland, Florida, high school where a former student killed 17 people; and Westerville, Ohio, where two police officers were fatally shot.
Please pray for these communities as well as those recovering across the Southeast due to the recent storms.
Give To Rapid Response Team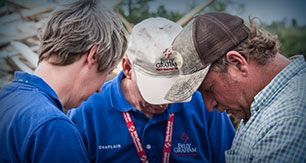 Your gift will provide for the training and deployment of our Rapid Response Team chaplains, who are deployed when natural or man made disasters strike in Canada and abroad. RRT chaplains serve and support hurting people affected by crisis, and share the message of hope found in Jesus.