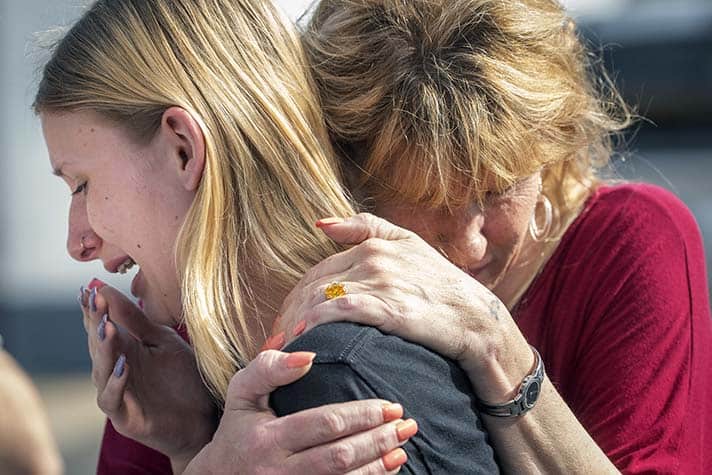 In the small, rural community of Santa Fe, Texas, about a half-hour drive from the Galveston coast, there's still a sense of shock and numbness after eight students and two teachers were shot and killed at school on Friday morning.
"The community is broken. The emotions are still very raw," said Carolin Perez, one of nine Billy Graham Rapid Response Team chaplains invited to Santa Fe by local churches to help minister to people who are suffering.
Carolin and her husband Desi were only about 65 kilometers from Santa Fe when they heard about the shooting. They had been serving in the region alongside Samaritan's Purse, which is continuing to help rebuild after Hurricane Harvey. The couple headed to Santa Fe immediately to offer their time anyone who needed to talk or pray.
"My first reaction was, 'Not again,'" Carolin said. "I can't believe this is happening again, because it's an occasion we've seen much too often. Your heart just breaks knowing another community is going through this."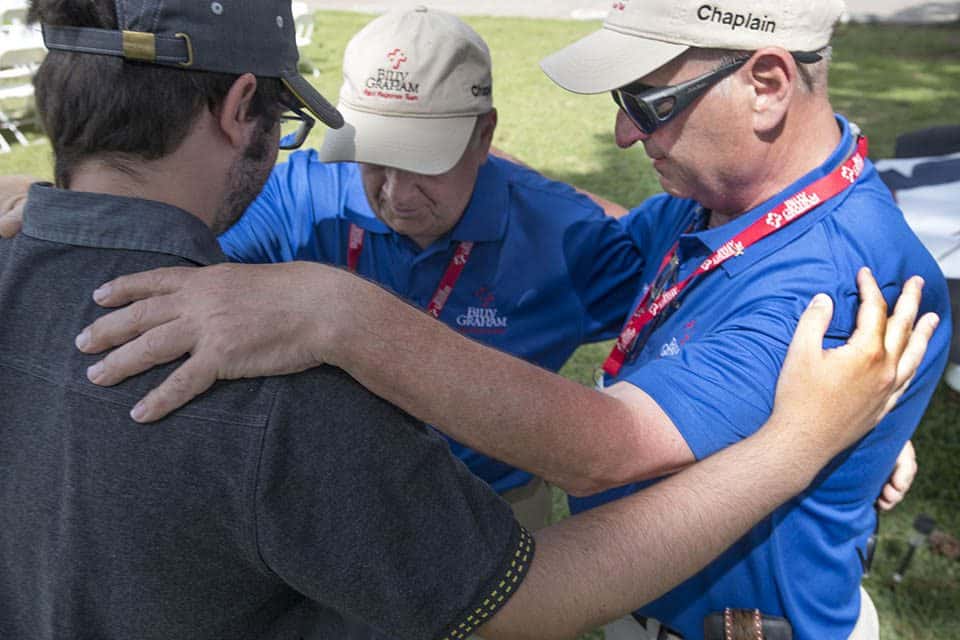 The U.S. Billy Graham Rapid Response Team has sent crisis-trained chaplains to Santa Fe. Since they arrived, the chaplains have had the chance to pray with well over 100 people in a town they say is filled with families that put their faith in Jesus Christ.
"They've just accepted us with open arms," said Jeff Naber, manager of chaplain development and ministry relations for the Rapid Response Team. "There was not one person who said, 'No, I don't want to pray.' Everyone accepted prayer and prayed with us."
As a former law enforcement officer, Naber tends to gravitate toward first responders, knowing they might be struggling to process the horrific scenes they've witnessed.
In a community the size of Santa Fe, he says it's especially tough because the same police officers who responded to the shooting on Friday had to be back at work Saturday.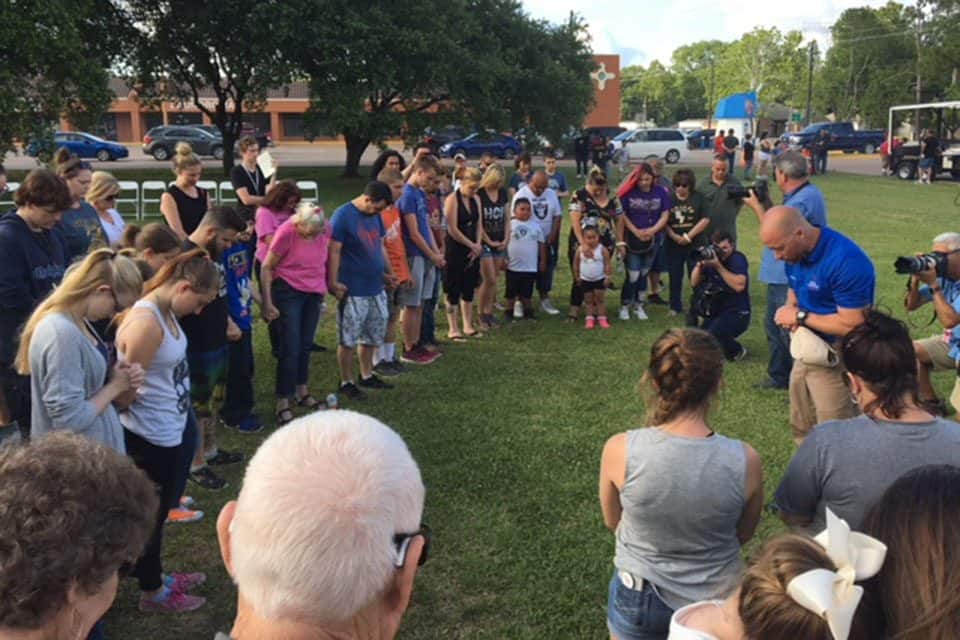 As the chaplains have attended prayer vigils, community events and Sunday church services in Santa Fe, they've had the chance to spend time with a lot of hurting people. The team is getting requests to meet with family members of some of those who were killed. They're also planning to follow up with first responders and those who are in the hospital with injuries.
"The thing that really hit me the strongest was when I was talking to five freshmen students from the high school, three girls and two guys," Naber said. "They were all just sobbing uncontrollably, to the point where they couldn't talk. I had an opportunity to pray with them."
One of the young women had been friends with five of the students who were killed, and Naber said she was still in shock.
"None of them slept, none of them were eating," he said. "They were clinging to each other. The best thing for us is just to be there, be a ministry of presence. And to pray."
Prayer seems to be the common thread pulling the community together in this time of gut-wrenching loss.
"Because of their Christian values and beliefs, their faith base is already there, and it's so obvious," Naber said. "It's so different than many places we respond to in the world, where unfortunately people don't have that clear understanding of who Christ is and where their hope comes from.
"When they say, 'We're Santa Fe Strong,' that's got a different meaning here. That means they're Santa Fe strong through their faith in God and his Son, Jesus Christ. That's my impression."
Please keep the community of Santa Fe, Texas, in your prayers.
Are you looking for hope and peace in the midst of suffering? Find true hope in Christ.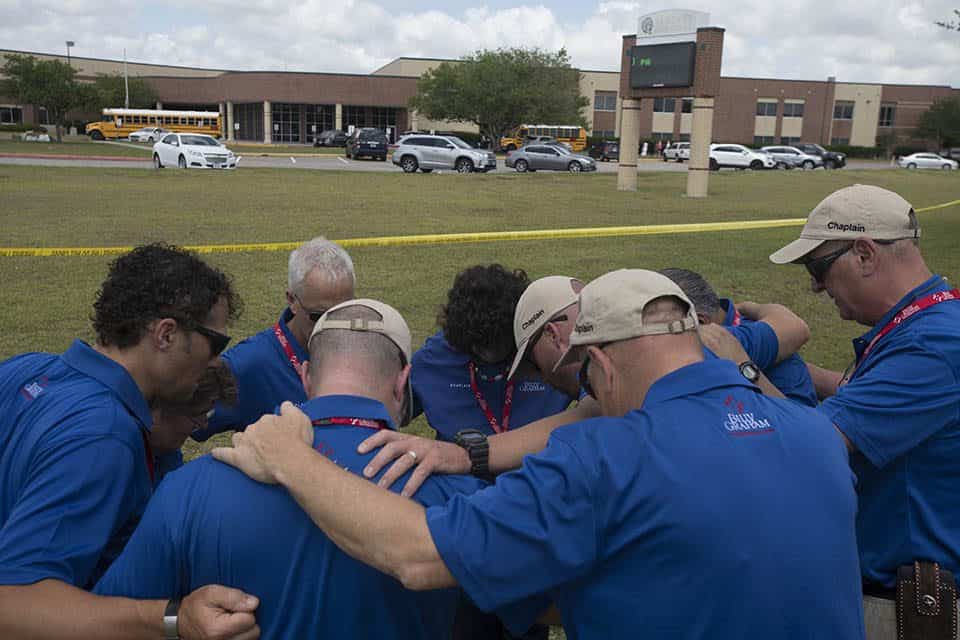 Give To Rapid Response Team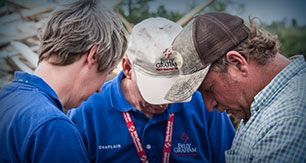 Your gift will provide for the training and deployment of our Rapid Response Team chaplains, who are deployed when natural or man made disasters strike in Canada and abroad. RRT chaplains serve and support hurting people affected by crisis, and share the message of hope found in Jesus.