Valuable advice shared for dealing with Fort McMurray wildfire's spiritual, emotional impact
Before the devastating 2011 wildfire in the northern Alberta town of Slave Lake, pastor Tracy Ottenbreit spent most of his time in the church office writing sermons, counseling members of his congregation, and assembling Sunday bulletins.
But after the fire, his ministry at Slave Lake Alliance Church changed dramatically.
"Now, I spend so much time out in the community," he told more than a dozen pastors from churches in fire-ravaged Fort McMurray, AB. "Doing that tells people 'we're here for you.'"
BACKGROUND
On May 3, Fort McMurray, Alberta was evacuated due to a massive wildfire that engulfed the city of 80,000.
Over 2,400 buildings were destroyed in the fire. Residents have begun returning since the evacuation order was lifted June 1. Our Rapid Response Team chaplains have been helping since the outset. Municipal authorities have invited us into the city to provide support, encouragement and prayer to all who need it.
Tracy was one of four pastors and a trauma specialist flown into Fort McMurray by the Billy Graham Evangelistic Association of Canada for a pastors' appreciation luncheon. We want to help local Christian leaders deal with the emotional and spiritual impact of the country's largest and most damaging wildfire.
By the time the fire was declared under control in early July, more than 2,400 buildings (most of them homes) had been destroyed. Some residents, who lost everything in the intense blaze, still haven't returned.
The visiting pastors, including three from High River, AB (which was severely damaged by flooding in 2013), had plenty of helpful information to pass along as they relayed their own experiences.
"I was in this hyper-vigilant mode for a year," Tracy told the Fort McMurray church leaders. "I was constantly 'on,' asking what I can do, how can I help, because there was so much need.
"It was a mistake (because) after that year, I was so very, very tired. If I could go back, I'd take way more time to spend with my family and relax."
Jason Johnson, pastor of High River Baptist Church, became emotional as he explained how the 2013 flood destroyed not only his home, but his church. Both have since been rebuilt, but the emotional toll continues.
"I come here as an individual who is still broken as a result of the flood," he said, acknowledging to Fort McMurray pastors that their community's road to recovery will likely be longer and more difficult than they originally thought. "At our first ministerial meeting after the flood, I remember the chairperson saying 'look at the opportunities we have to rise above this and be shepherds and leaders.' I was almost offended"
Jason was heavily burdened with fears about his congregation, the huge financial implications of the flood, and if his church would even be rebuilt. Having to be a leader and support for his congregation and community made that burden heavier still. Only one church building in Fort McMurray was destroyed, but many congregations have members who lost everything to the fire. Still other members know friends and family members who have been severely impacted by the fire.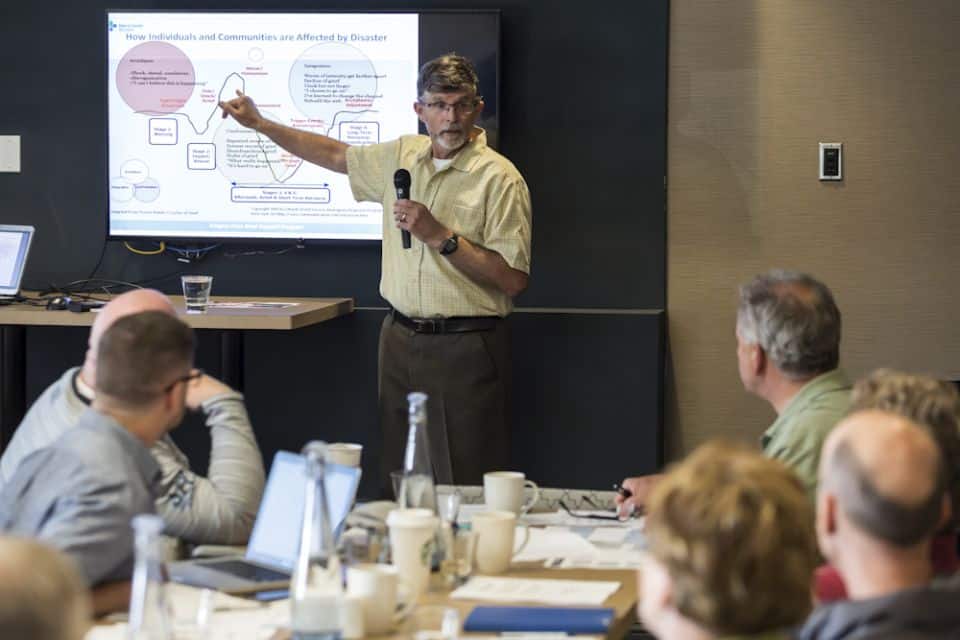 Brian Pickering, an Alberta Health Services grief and trauma coordinator/education, had special advice for church leaders.
"Every loss is an important loss," he told them. "There are a lot of Fort McMurray people who didn't lose their homes, but when we look at the landscape of careers, social connections, and more. There are losses that can effect an entire community. It may not be a house or car, but these are losses that need to be validated."
This was music to the ears of Doug Doyle, lead pastor of Fort McMurray's Fort City Church.
"Brian presented the theory and material, then the visiting pastors confirmed it with emotion. This luncheon was very, very eye-opening; it helped us realize what we're into is long-term."
Doug was grateful to BGEA of Canada for organizing the luncheon, noting "To have partners to give us a boost and reality check is huge for me and for everyone at the event."
Please continue to support hurting people in Fort McMurray and across Canada with your prayers and donations. Together, we can make sure church leaders know that as they face challenging times, the Lord "will not leave [them] nor forsake [them]" (Deuteronomy 31:8, NKJV).
Give To Rapid Response Team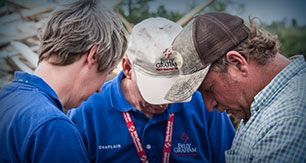 Your gift will provide for the training and deployment of our Rapid Response Team chaplains, who are deployed when natural or man made disasters strike in Canada and abroad. RRT chaplains serve and support hurting people affected by crisis, and share the message of hope found in Jesus.