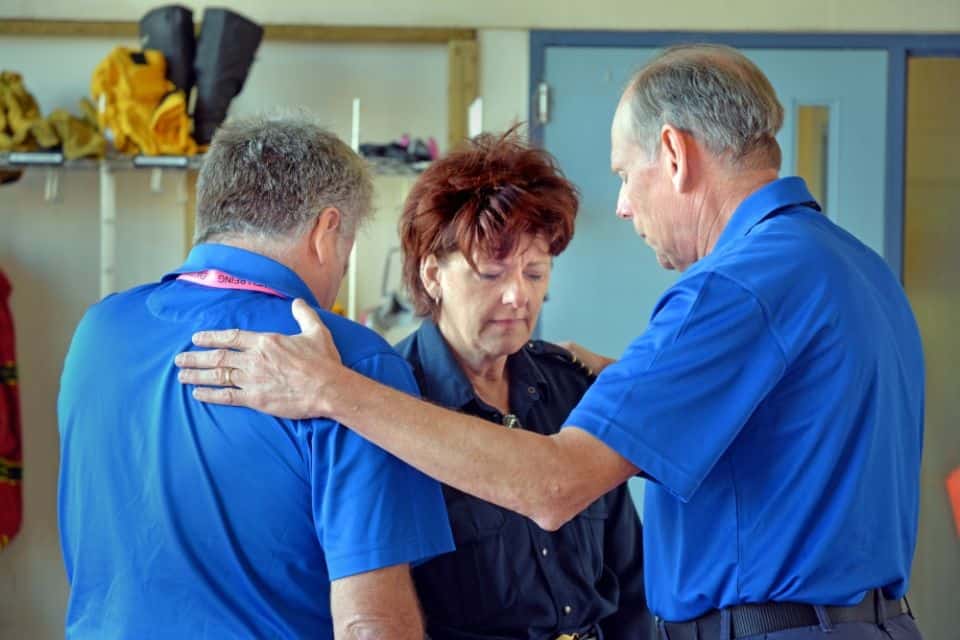 Dana Allen is not a firefighter, but she certainly did her part to protect the northern Alberta city of Fort McMurray in May as a catastrophic wildfire burned ever closer to the fire station where she works.
Dana, the Assistant Deputy Chief of Operations for the Regional Municipality of Wood Buffalo, was the ranking officer on duty when the fires hit. She took charge at the station while firefighters battled the blaze, which came up to the edge of a highway near the building.
Smoldering grass around the station and pieces of flaming trees landing on the roof forced firefighters to do all they could to keep the structure unharmed, including maintaining a constant spray on the roof.
"It was a zoo [inside the station]," Dana told crisis-trained Rapid Response Team chaplains who visited her about a month after the fire had moved away from Fort McMurray.
"We had pet animals [brought by frightened residents] in every room, and horses in the ambulance bay."
It was the chaplains' second visit with Dana. On this occasion, they brought an autographed Bible to her office to make a presentation and offer their thanks for all that she and her department accomplished.
"We made an intentional effort to come here," said chaplain Curtis Johnson. "When you looked at the area and how the fire moved almost at will, it became clear the magnitude of what these emergency personnel had to go through to save Fort McMurray."
"I'm honored that your organization would think of us," Dana told the chaplains. "Your visit was to remind us that we have angels—we just sometimes don't realize when they're here."
Allen was amazed at the work done by chaplains and by volunteers at Samaritan's Purse—all at no cost or obligation to the community. She also welcomed the opportunity to join the chaplains in praying together for the city, its residents, and everyone working to restore and repair the damage.
Give To Rapid Response Team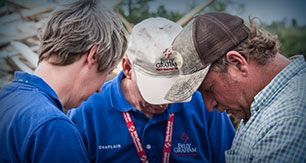 Your gift will provide for the training and deployment of our Rapid Response Team chaplains, who are deployed when natural or man made disasters strike in Canada and abroad. RRT chaplains serve and support hurting people affected by crisis, and share the message of hope found in Jesus.