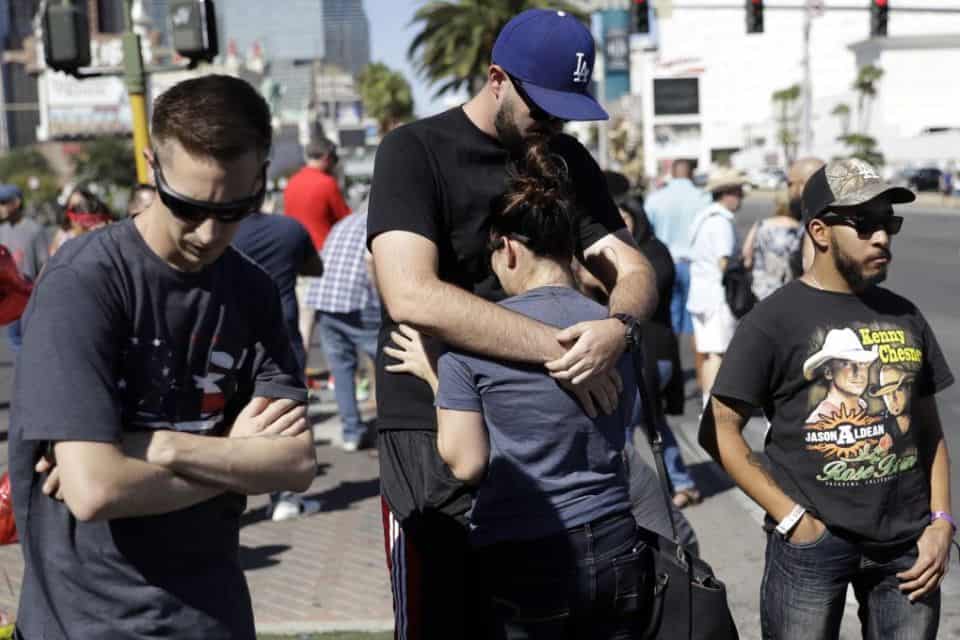 "Evil and suffering are real … They aren't an illusion, nor are they simply an absence of good. We are fallen creatures living in a fallen world that has been twisted and corrupted by sin, and we all share in its brokenness. Most of all, we share in its tragic legacy of disease and death." —Billy Graham
Evil and suffering have come to the forefront once again after a gunman opened fire on a crowd of people from a hotel room-turned-arsenal 36 floors above the carnage.
Dozens and dozens of families woke up Monday morning missing a loved one who never made it home from a country music festival on the Las Vegas strip. Hundreds of others woke up in a hospital bed, and thousands more are grappling with horrific images and memories that will likely be with them for the rest of their lives.
"This morning we awoke to the tragic news that at least 50 people were killed and over 200 wounded last night in a mass shooting at a Las Vegas outdoor concert. Please join me in praying for the families of those killed and for all the injured," Franklin Graham posted a few hours after the shooting. Since then, the death toll has risen to 59, and the total number of casualties has climbed to more than 500.
In response to what is now the deadliest mass shooting in modern U.S. history, a group of U.S.-based Billy Graham Rapid Response Team chaplains is ministering in Las Vegas, offering emotional and spiritual care to people who are suffering. Each chaplain is trained in crisis response and has previous experience ministering after a violent attack in a place that seemed safe.
Jack Munday, the international director of the Rapid Response Team, called the Las Vegas shooting an "unimaginable, traumatic situation" and said the injured, the grieving and the first responders were in his prayers.
"My prayer is that they know they're not alone and that hundreds of thousands of people are praying for them," Munday said.
This year, Billy Graham chaplains have responded to terror attacks in Quebec, Canada; London, England (March and June); Manchester, England; and Barcelona, Spain. In 2016, the Billy Graham Rapid Response Team ministered after terror attacks in Belgium, France and in Germany (Munich in July and Berlin in December).
In June 2016, 40 crisis-trained chaplains prayed with and comforted more than 1,600 people in Orlando, Florida, following the attack at Pulse nightclub. Chaplains have also responded to mass shootings in San Bernardino, California, (2016); Umpqua Community College in Oregon (2016); Newtown, Connecticut, (2012); Aurora, Colorado, (2012); Northern Illinois University (2008) and Virginia Tech University (2007), among others.
"In the midst of great suffering, whether it's a shooting in Orlando or Virginia Tech or Newtown, we always see good that comes out of it, because that's God's heart," Munday said. "Evil and sin are never satisfied, but as God touches lives and brings healing, we see the good."
The team of chaplains is working alongside several Las Vegas-area churches as they listen to and pray with those who have been affected by Sunday night's tragedy. And as hundreds begin to recover from the physical damage done, the chaplains are praying God will open doors for emotional and spiritual restoration as well.
"It doesn't dismiss the pain and it doesn't answer all the questions, but it does bring comfort and hope in someone's life after they experience great loss," Munday said. "We're thankful that we do have a message of hope, where God can bring comfort in the midst of suffering and healing in the midst of pain. And people need to know that God loves them and desires to be with them in such a time as this."
Give To Rapid Response Team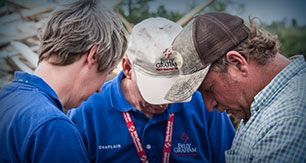 Your gift will provide for the training and deployment of our Rapid Response Team chaplains, who are deployed when natural or man made disasters strike in Canada and abroad. RRT chaplains serve and support hurting people affected by crisis, and share the message of hope found in Jesus.