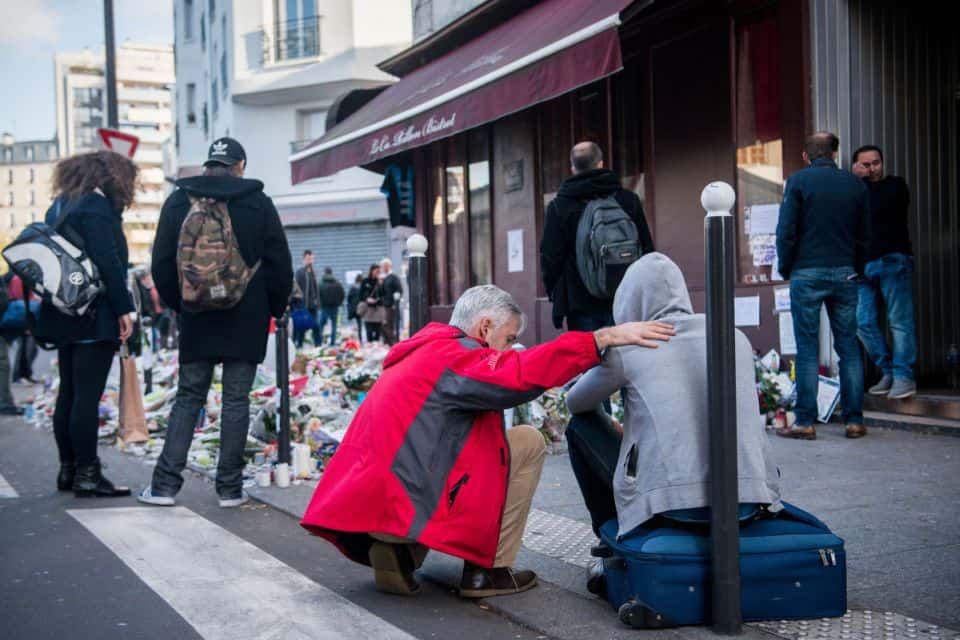 Donna is a volunteer Rapid Response Team chaplain (RRT) who served in Paris. Afterward, while speaking to BGEAC staff in Calgary during one of our regular morning chapel times, she described some of her experience in Paris.
My name is Donna and I had the awesome privilege to go to Paris in November—very unexpected but God called us there and I was so blessed. We were there to minister, but I was also ministered to.
The impact for me, and I'm sure the rest of the team (we were a team of seven) was, (although) we knew there would be grief because that's why we were there, it was the level of grief and not just the grief. There was the shock, the denial, and the fear on top of everything because they were expecting more attacks—they just didn't know when.
And it was very unlike in Canada where people have run out to us (RRT chaplains during deployments) and said "Oh, I'm so glad you're here" and hugged us. This was a different situation.
Near the first part of the deployment, we went to one of the four memorial sites. It wasn't the flowers and the other things that were there that I noticed. People were standing two and three tier deep and just in silence. It was the silence. The atmosphere. I've never seen anything like it or felt it. We could feel it. They were locked in their own grief because it was still very new.
One of the team members with me, instead of approaching people and speaking to them or trying to comfort somebody (there was no crying that I noticed and no low speaking), and so the other team member said to me, "You know what, we can't approach. It's disrespectful. It's too private."
And I agreed, so we stood as a 'ministry presence' and prayed and it sounds strange to say, but it's almost as if I reached my hand out you could feel a wall of sadness there. It was so heavy and the emotion was so high but we just felt that we couldn't intrude on their privacy and what they were feeling.
Now, it wasn't all like that and later, on we had some opportunities—great ones—to speak to people. God did the work but that was the impact. Another time, (there was a bicycle leaning up, chained against a fence, and a poem written over it: "Your bicycle is here when you're coming back for it." (People) were pouring out their emotions in letters and putting them at the sites. That stayed with me for a long time—an inspiration for me were the volunteers.
We'd been told the churches don't necessarily work together, but we had the ones and the twos (of Christians), not very many, to meet with us . . . it was the college and career age, the younger group, that had such a passion and a desire to serve God. They wanted to learn how. They didn't have the tools. The churches wanted to help but they didn't know what to do.
So it was a privilege to teach them. But what was the inspiring thing for me was to pray with them and to hear the passion in their prayers and the sense of the unity of the body of Christ, and that I'm part of it. Very powerful. And it reminded me of the book of Acts and that little nucleus of people that Jesus left when he went back to heaven and He turned the world upside down. They turned the world upside down for Him, and I know God is working through that little nucleus of believers in France. We went there to minister, but we also planted seeds. And we encouraged the body of Christ.
Give To Rapid Response Team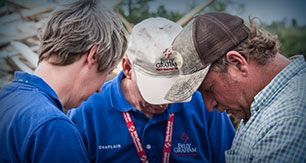 Your gift will provide for the training and deployment of our Rapid Response Team chaplains, who are deployed when natural or man made disasters strike in Canada and abroad. RRT chaplains serve and support hurting people affected by crisis, and share the message of hope found in Jesus.