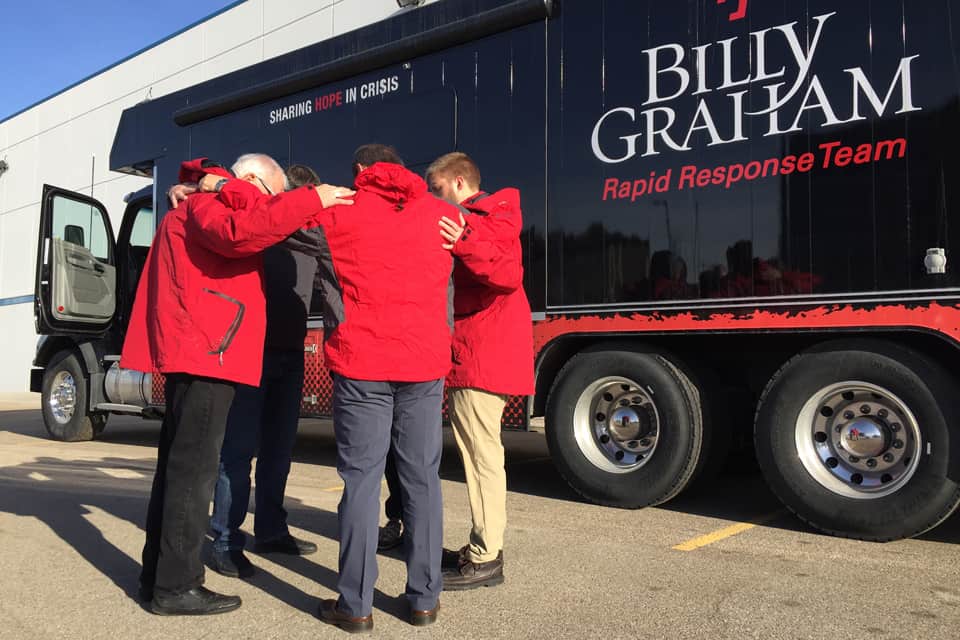 Crisis-trained Billy Graham Rapid Response Team (RRT) chaplains are currently in Humboldt, Sask. to provide emotional and spiritual support to shocked and heartbroken residents after 16 passengers on a Humboldt Broncos team bus were killed and 13 injured in a catastrophic collision on Friday, April 6.
"We are praying for the people of Humboldt," said Merle Doherty, manager of the Billy Graham Evangelistic Association of Canada's RRT chaplains. "We want to provide Christ's compassion, care and love as we minister to grieving and hurting people there."
The junior hockey team's bus, carrying 29 people, was on its way to Nipawin for a game on April 6 when it collided with a tractor trailer outside Tisdale. Among the dead is Broncos head coach Darcy Haugan and Tyler Bieber, who worked with Humboldt radio station 107.5 FM.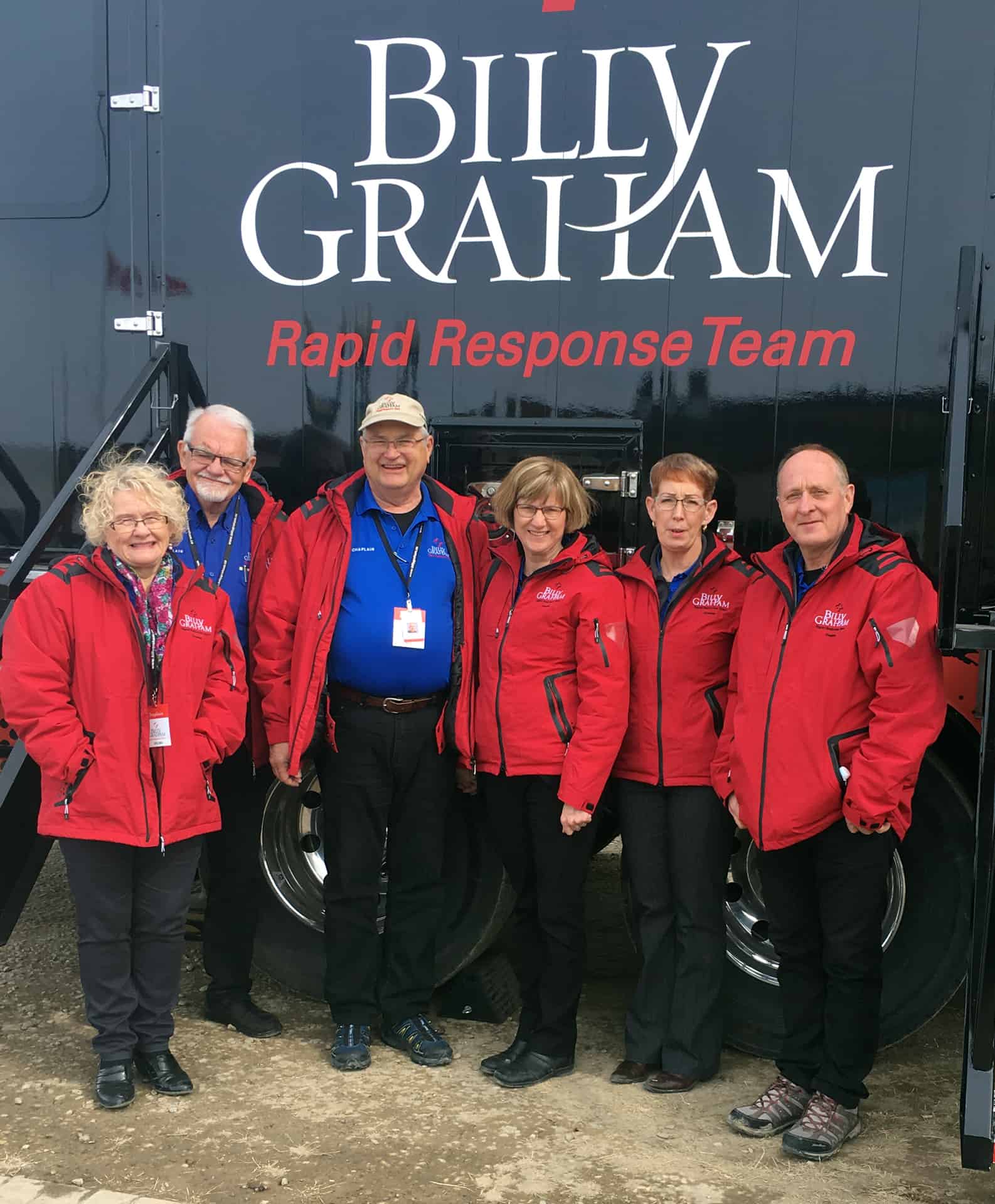 A vigil was held Sunday evening in Humboldt, and our chaplains were present to offer comfort, support, and prayer.
"This is a tragedy that impacts families in multiple communities in Saskatchewan, Alberta, and Manitoba," said Doherty. "Horrible events like this are what our chaplains are trained for."
The six crisis-trained chaplains, all from the Calgary region, will remain in Humboldt for as long as they are needed, and the Billy Graham Mobile Ministry Center will be set up at the Humboldt Uniplex to serve members of the community.
"We want to soothe broken hearts just by being there and praying with people about Jesus' love and understanding when appropriate, or just listening and weeping when they weep," said Rick Benner, one of the volunteer chaplains.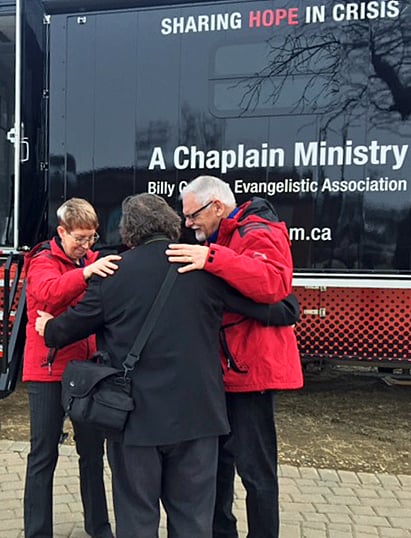 Our chaplains have received a warm welcome as they offer a ministry of presence and prayer in the Humboldt community. They have had the opportunity to pray with many people, including Pastor Sean Brandow, the team chaplain, before he left for Saskatoon to visit team members still in hospital.
On Wednesday, chaplains attended an appreciation event in Tisdale for the first responders and hospital staff who were some of the first people impacted by the tragedy.
This is the first Canadian RRT deployment of 2018. In 2017, chaplains provided a listening ear, a shoulder to cry on and, when appropriate, prayers for grieving people after a mosque shooting in Quebec City, after flooding in Ontario and Quebec, and after wildfires in British Columbia.
Please pray with us for the Lord to lead the chaplains in word and deed as they show people in Humboldt "the God of all comfort, who comforts us in all our affliction, so that we may be able to comfort those who are in any affliction" (2 Corinthians 1:3-4, ESV).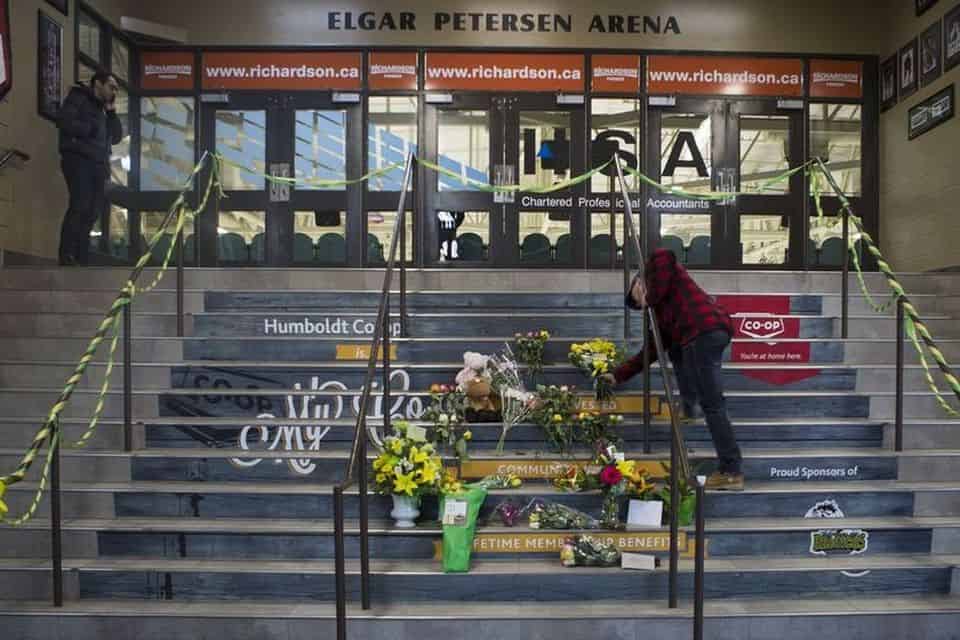 Give To Rapid Response Team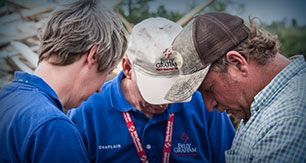 Your gift will provide for the training and deployment of our Rapid Response Team chaplains, who are deployed when natural or man made disasters strike in Canada and abroad. RRT chaplains serve and support hurting people affected by crisis, and share the message of hope found in Jesus.